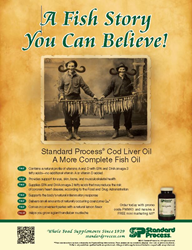 (PRWEB) June 16, 2014
Standard Process Inc. was honored with two awards for communication achievements from the Public Relations Society of America (PRSA) Southeastern Wisconsin Chapter. The awards were presented during the chapter's 2014 Paragon Award ceremony held June 3 in Milwaukee, Wisconsin. The Paragon Awards program recognizes local public relations professionals for accomplishments in areas of public relations, including media relations and integrated communication campaigns.
Paragon Awards are presented in two categories: Complete programs, evaluating all project plans and materials from inception to end, and tactical entries, which are stand-alone pieces that support a complete program. Members of the Standard Process communications and creative teams received an award in each category.
In the tactics category, an Award of Excellence, the program's highest honor, was given for Standard Process' corporate video, "Seasons on the Farm." Unique in the dietary supplement industry for its company-owned and operated certified organic farm, Standard Process created a video showcasing life on its farm, allowing tour guests and those unable to visit the Wisconsin farm, the ability to see, experience and practically smell many aspects of the farm, even in the dead of winter.
An Award of Merit in the complete program category of marketing business-to-business was also given to Standard Process for its integrated campaign, "A Fish Story You Can Believe!" The campaign was created to promote Cod Liver Oil, a new product from Standard Process.The company developed Cod Liver Oil in response to Standard Process health care professional customers requesting a minimally processed cod liver oil supplement containing naturally occurring vitamins A and D with EPA and DHA omega-3 fatty acids.
Started in 1983 to encourage PRSA members to strive for excellence in communication and public relations, the Paragon Awards acknowledge public relations professionals in Southeastern Wisconsin who deliver exceptional work related to public relations. The PRSA Southeastern Wisconsin chapter holds the award program every spring.
###
About Standard Process Inc.
For 85 years, Standard Process has been dedicated to the field of nutritional supplements and the whole food philosophy introduced by its founder, Dr. Royal Lee. Standard Process, headquartered in Palmyra, Wis., offers more than 300 high-quality supplements with whole food ingredients through three product lines: Standard Process whole food supplements, Standard Process Veterinary Formulas and MediHerb herbal supplements. The products are available only through health care professionals.
To ensure its supplements are of the utmost quality, Standard Process grows the majority of its ingredients on company-owned, organically certified farmland. To retain vital nutrients within each ingredient, the company uses exclusive manufacturing processes and employs high quality control standards, including adhering to the Food and Drug Administration's good manufacturing practice requirements.
In 2014, Standard Process launched Cultivate by Standard Process, a new business which provides corporate wellness offerings to other companies. Cultivate works to assess and then deliver scalable wellness solutions to impact individual employees and the overall company using onsite chiropractic as a central component of the program.
Standard Process has been named a Top Workplace in Southeastern Wisconsin multiple times and is a member of the Inc. 5000 Honor Roll. For additional information about Standard Process, visit standardprocess.com.