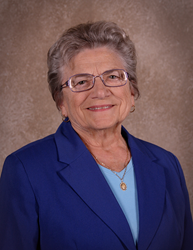 She taught everyone she met how to give unconditionally of themselves.
PALMYRA, Wis. (PRWEB) November 06, 2014
Sylvia DuBois, matriarch of Standard Process Inc. in Palmyra, Wisconsin, passed away in December 2013, yet her legacy lives on today. On Nov. 4, Milwaukee's BizTimes Media, a business magazine focused on Southeastern Wisconsin, named DuBois runner-up in the Lifetime Achievement category of its inaugural Nonprofit Excellence Awards program. DuBois and 29 other award program finalists were honored during a special ceremony held at the Potawatomi Hotel & Casino. The event celebrated corporate citizenship, philanthropy and nonprofit leadership in southeastern Wisconsin.
"My mother was a remarkable, compassionate woman and a true advocate for the needy," said DuBois' son and president of Standard Process, Charles C. DuBois. "She taught everyone she met how to give unconditionally of themselves. Having her recognized by the community for her lifetime of charitable acts is very special for me and my family."
During her life, DuBois was devoted to her family and many charitable causes, from nonprofit organizations such as Penfield Children's Center to local food pantries and meal programs for the hungry. In October 2013, her high school alma mater, Divine Savior Holy Angels, honored her with its 2013 Jubilarian of the Year award. The award recognized DuBois' "lifetime devotion to helping others while living her Catholic beliefs."
As vice president and owner of Standard Process, Sylvia DuBois oversaw the company's charitable donations and corporate culture. Passionate about family, DuBois and her husband Frank DuBois created a caring, family orientated culture at Standard Process that provides many work-life balance opportunities to Standard Process employees. She was instrumental in the development of Vita Kids Learning Center, the company's on-site child care facility, as well as the company's on-site Whole Food Court, which offers employees affordable, nutritious lunches.
The three finalists in the Lifetime Achievement category included DuBois, Norman Doll of Pieper Electric and Raejean Kanter of The Falk Group public relations firm.
###
About Standard Process Inc.
For 85 years, Standard Process has been dedicated to the field of nutritional supplements and the whole food philosophy introduced by its founder, Dr. Royal Lee. Standard Process, headquartered in Palmyra, Wis., offers more than 300 high-quality supplements with whole food ingredients through three product lines: Standard Process whole food supplements, Standard Process Veterinary Formulas and MediHerb herbal supplements. The products are available only through health care professionals.
To ensure its supplements are of the utmost quality, Standard Process grows the majority of its ingredients on company-owned, organically certified farmland. To retain vital nutrients within each ingredient, the company uses exclusive manufacturing processes and employs high quality control standards, including adhering to the Food and Drug Administration's good manufacturing practice requirements.
In 2014, Standard Process launched Cultivate by Standard Process, a new business which provides corporate wellness offerings to other companies. Cultivate works to assess and then deliver scalable wellness solutions to impact individual employees and the overall company using onsite chiropractic as a central component of the program.
Standard Process has been named a Top Workplace in Southeastern Wisconsin multiple times and is a member of the Inc. 5000 Honor Roll. For additional information about Standard Process, visit standardprocess.com.