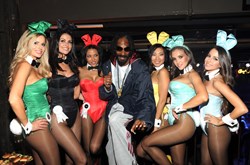 Ticket Monster is your number 1 source for Super Bowl party tickets in New York City. Visit our site or call today - 866-217-4777.
New York, NY (PRWEB) January 23, 2014
The Super Bowl is not a one time party. There are several large parties leading up to the biggest NFL football game of the year. Some of these parties include the ESPN NEXT Big Weekend, the Jets House, the Super Friday Night Bash, the Maxim Party and the Jocks and Jills Super Bowl Party. These are a few of the many events that will be happening in New York City prior to Super Bowl Sunday. These parties are so popular that it takes tickets to get into the events.
Before hopping on the plane and flying to New York City, plan out a schedule time at the Super Bowl. Most people will spend all of Sunday in or around MetLife Stadium but Thursday, Friday and Saturday are available. Below are the parties will be able to attend when purchasing a ticket from Ticket Monster:
Thursday - January 30, 2014
Super Bowl Jets House - January 30, 2014
Cafe Lugo - New York, New York
Friday - January 31, 2014
Super Bowl ESPN NEXT Big Weekend - January 31, 2014 - $2,030
Basketball City - New York, NY
Super Bowl Jets House - January 31, 2014
Cafe Lugo - New York, New York
Super Bowl: Super Friday Night Bash - January 31, 2014 - $1,914 - Table
Cipriani - New York, NY
Super Bowl Maxim Party - January 31, 2014 - $1,387 General Admission
Espace - New York, NY
Super Bowl Leather and Laces - January 31, 2014
Liberty Square Theater - New York, NY - $1,102 VIP Admission
Jocks and Jills Super Bowl Party - January 31, 2014 - $754
Dragonfly - Los Angeles, CA
ESPN Super Bowl Party - January 31, 2014 - $1,758
Pier 36 - New York, NY
http://www.ticketmonster.com/buy-ESPN-Super-Bowl-Party-tickets-at-Pier-36-New-York-NY-01-31-2014/76755
Saturday - February 1, 2014
Super Bowl Taste of the NFL
Brooklyn Cruise Terminal - New York, NY
Direct TV Super Bowl Party - February 1, 2014
Pier 40 at West Houston St. - New York, NY
Super Bowl Jets House - February 1, 2014
Cafe Lugo - New York, New York
Super Bowl Maxim Party - February 1, 2014 - $1,387 General Admission
Espace - New York, NY
Super Bowl Leather and Laces - February 1, 2014 - $1,102 VIP
Liberty Square Theater - New York, NY
Celebrity Chef Super Bowl Tailgate Party - February 1, 2014 - $551 General Admission
Dragonfly - Los Angeles, CA
Sunday - February 2, 2014
MillerCoors Super Sunday Tailgate- February 2, 2014 - $754 General Admission
The Shannon Rose - Clifton, NJ
Super Bowl XLVIII: Pro Football Hall of Fame Tailgate- February 2, 2014
Redds Restaurant & Bar - Carlstadt, NJ
Planning to attend any of these parties prior to the Super Bowl between the Seattle Seahawks and the Denver Broncos, make sure to get tickets from Ticket Monster. Also, access the Ticket Monster blog to get all information on the events leading up to the biggest football game of the year. http://www.ticketmonster.com/Super-Bowl-Parties-Tickets