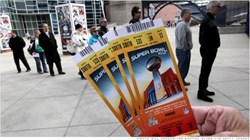 Call Ticket Monster - We will try and beat any price on Super Bowl 2014 Tickets - 866-217-4777
New York, New York (PRWEB) January 22, 2014
The 2014 Super Bowl and Tickets are already being hyped as one of the biggest and most expensive entertainment events in history. The AFC and NFC Championship games averaged over 50 million viewers each which is highly unusual. Some have predicted that this Super Bowl could reach over 70 million viewers. That number does not include all the Seahawks and Broncos fans that will be traveling to MetLife Stadium to watch their team play. Unfortunately, the cost of a ticket to the Super Bowl can be quite expensive. Ticket Monster is here to help.
Ticket Monster will try to beat any online Super Bowl 2014 ticket price on the web. If customers are searching ticketing websites and find a deal that is better than the current price, for comparable seats, that Ticket Monster is offering, Ticket Monster encourages customers to call 866-217-4777 and will try to beat that price. Ticket Monster have a large inventory of Super Bowl tickets and will be able to find seats in a similar location on other ticket websites.
Ticket Monster are confident that customer service will offer customers a great experience. Before buying from any other website, Ticket Monster would love to receive a call from customers. To make the offer even more enticing, Ticket Monster also offer tickets without any fees. Other websites charge fees as high as 25% on a ticket. This means that a $3000 Super Bowl ticket could end up costing $3750. When going through the check out process with any ticketing agency or ticketing website, make sure to notice the cost of the fees and the final cost of the tickets. Just because the price may say $3000 on the website, that does not necessarily mean that will be the final price when customers pay for tickets with a credit card information.
If there is any way Ticket Monster can help customers get to the Super Bowl as a Seahawks or Broncos fan, give Ticket Monster a call today at 866-217-4777. Ticket Monster will continue to update the Ticket Monster blog with all the goings on around the Super Bowl. It is the best time of the year for NFL fans: http://www.ticketmonster.com/buy-Super-Bowl-XLVIII-tickets-at-MetLife-Stadium-East-Rutherford-NJ-02-2-2014/23100.