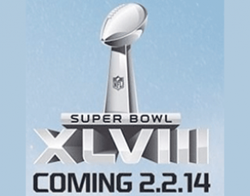 Ticket Monster - Your #1 Source For the Best Prices On Super Bowl Tickets - Call Today!
New York, New York (PRWEB) January 20, 2014
The biggest television event of the year is always the NFL 2014 Super Bowl - Seattle Seahawks vs Denver Broncos. This year, over 60 million people are expected to watch worldwide and 2014 Superbowl Tickets are on fire! While the large majority of sports fans will watch on TV there are some that will do whatever it takes to get tickets to watch their favorite team play for the Lombardi Trophy. This game is so popular that tickets are not easy to come by. Finding tickets in the upper deck of MetLife Stadium in East Rutherford, New Jersey will be a song and a dance for many.
The face value for Super Bowl tickets ranges from $1000 to $2600. These prices are going to be very difficult to come by with Peyton Manning leading the record setting Denver Broncos into the Super Bowl. This will be a chance for Peyton to stamp himself as one of the top three greatest quarterbacks in the history of the NFL. If you want to purchase 2014 Super Bowl tickets with zero fees make sure to check out the inventory provided by Ticket Monster.
Tickets in the upper end zone in sections 301 through 306, 346 through 350, and 321 through 331 can be found for prices as low as $2541 on TicketMonster.com. Fans should take action because the demand for these tickets will likely increase over the course of the next week. Supply and demand determine the price of tickets. If the demand for Super Bowl XLVIII exceeds supply look for prices to jump 10% to 15% prior to the 2014 NFL Pro Bowl.
This is the first time in quite some time that the Super Bowl will be in a cold weather location during the first week of February. In years past the Super Bowl has been played in a dome or a warm weather city such as San Diego, Tempe or Miami. The fact that the weather will likely be frigid will change the experience for everyone involved. If you are going to purchase tickets from Ticket Monster today you might want to pack up some warm clothes to bring along as well.
Ticket Monster will do the very best to beat any price on the web. Call one of a Super Bowl Sales Experts on the phone today at: (866) 217-4777 or visit Ticket Monster at: http://www.ticketmonster.com/Super-Bowl-Tickets