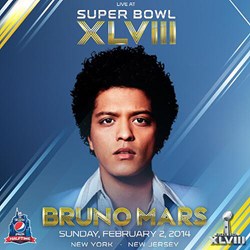 Ticket Monster can help coordinate your 2014 Super Bowl Experience, call today 866-217-4777!
New York, New York (PRWEB) January 21, 2014
While a large percentage of people watching the Super Bowl have a vested interest in the outcome of the football game some just watch for the entertainment. This event is so entertaining that it is the most watch TV program of the entire year with an incredible 2014 Super Bowl Half Time Show with Bruno Mars and Red Hot Chili Peppers. Year in and year out the Super Bowl leads all other events in ratings as sports fans want to see the best two teams play and entertainment gurus want to see the commercials and the halftime show. In 2014, the halftime show featured by Burno Mars with the Red Hot Chili Peppers being the opening act.
It is amazing how quickly things change in the entertainment industry. A decade ago Burno Mars was just finishing up his high school years and the Red Hot Chili Peppers were on top of the world with songs such as "Californication", "Scar Tissue" and "Other Side". In fact, in 2003, The Red Hot Chili Peppers released their Greatest Hits album which featured "Under the Bridge", "Give It Away", "By the Way" and "Higher Ground". We will likely get to hear two or three songs by the Red Hot Chili Peppers before Bruno Mars hits the stage.
Many people are wondering what songs Bruno Mars will sing at the halftime show of the 2014 Super Bowl. He has had some major hit songs in the last two years. The two songs that hit #1 worldwide were "Just the Way You Are" and "Grenade". That said, these two songs came out in 2010 so Bruno will likely sing something more modern. His current song "Young Girls" is getting plenty of airtime as of late but it has not reached the popularity of prior hits.
Look for songs such as "Treasure", "When I Was Your Man" and "Locked Out of Heaven" to get some consideration when it comes to songs that will be played during the halftime show. Generally, the main act gets a chance to play three to four abbreviated versions of their hits before having to exit the stage to let the second half begin. We would love to hear what songs you would like to hear from both acts? What songs do you want to hear from the Red Hot Chili Peppers? Are there specific songs you want to hear Bruno Mars sing? Let us know! http://www.ticketmonster.com/buy-Super-Bowl-XLVIII-tickets-at-MetLife-Stadium-East-Rutherford-NJ-02-2-2014/23100