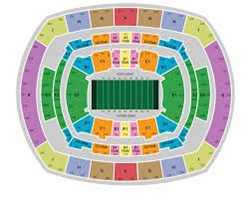 When looking for Super Bowl XLVIII tickets, visit Ticket Monster for the best prices on the web.
New York, New York (PRWEB) January 26, 2014
Before attending any sporting event most fans will take the time to look at the seating chart for the stadium in which they will be attending a game. It is important to remember that the seating chart changes based on the event. Some basketball stadiums and football stadiums host concerts. The concert seating chart will be completely different than the seating chart for a regular season sporting event. This year, 2014, the Super Bowl will be played at MetLife Stadium in East Rutherford, New Jersey. This is the same stadium that plays host to home games by the New York Jets and the New York Giants.
Both Jets and Giants fans will know the Super Bowl seating chart like the back of their hand. There will be nothing different in the seating chart except the prices for the tickets. When looking for tickets to the Super Bowl or any Jets or Giants game always use Ticket Monster. Ticket Monster will help fans avoid fees and find the best prices on the Internet. When it comes to the seating chart for the Super Bowl this year fans will desire to be in the following sections:
112 ($10450 to $14784)
113 ($11000 to $24750)
114 ($9350 to $15014)
137 ($6560 to $9900)
139 ($9075 to $15950)
140 ($6595 to $12650)
These seats are not going to come cheap for the Super Bowl. Prices in section 113 currently range from $11000 to $24750. While these are the most expensive tickets there are definitely more affordable options. The upper deck seats in the end zones provide the lowest prices at the moment. Some of these sections include:
330 ($2024 to $2750)
323 ($2051 to $2723)
301 ($2071 to $2876)
307 ($2085 to $3257)
Ticket Monster will be willing to match prices for comparable seats found at other online ticket websites. There are also zero fees on tickets that are purchase from Ticket Monster. This is sure to be one of the most watched Super Bowl games in history. Some are predicting a TV rating of 54 or higher. Rather than watching at home it might be better to experience it in person. Visit http://www.Ticketmonster.com today for 2014 Super Bowl tickets, or call 866-217-4777 for more information!