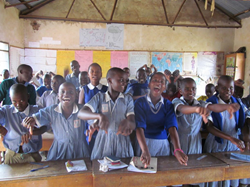 Today, 250,000 students are being taught Biblical values each week in more than 850 schools nationwide (in the Philippines).
Detroit, MI (PRWEB) May 21, 2014
In July 2004, Gloria Macapagal Arroyo, then president of the Philippines, announced, "I would like to instruct our Department of Education to allow (non-government organizations) of various religions to teach values formation once again in our public schools." (Philippine Star, July 13, 2004).
Missionaries serving in the Philippines with SEND International, a church planting organization, saw this as an opportunity to connect with local students. Laura Bonney and Ruth Haines worked with Filipino pastor Tony Elizaga and in 2005, VOICE values education for public schools was incorporated. They developed a program to mobilize and equip Bible-believing churches to engage in campus ministry through teaching weekly Biblical values classes in public elementary and/or high schools. The curriculum is values focused (i.e. honesty, respect, self-discipline, responsibility, humility, etc.) and the Bible is used in each lesson with the Gospel being explained at the end of each module of curriculum.
Within one year, 75 volunteers were teaching 4,500 students in eight public schools. Since then, the program has grown exponentially. Today, 250,000 students are being taught Biblical values each week in more than 850 schools nationwide. The program is now run completely by Filipinos with over 300 community group partners. (To learn more, visit the VOICE website.)
After nine years' involvement with VOICE, Bonney and Haines were offered the opportunity to adapt the curriculum for use in schools in Uganda and throughout East Africa. They moved to Uganda in July 2013 and began their work in partnership with World Venture.
Recently Bonney and Haines reported that the first module, Truth, had been launched in public schools. A team of Ugandan writers, artists and musicians had worked to revise the curriculum and the module was ready to be tested in the class.
A coworker named Beth taught the lesson to a combined 6th and 7th grade class at a nearby Primary School and was thrilled with the results. Parents and the Principal noticed a difference in the pupils. Later on, 21 students met individually with Beth and put their trust in Jesus Christ as Savior.
Once the curriculum was ready, the Scripture Union Uganda (SUU) staff promoted the program among selected churches and 27 people attended the first training. Another training was conducted further east by another SUU staff member which was also well attended. From those, about 12 Pilot Values Education Classes (VEC) are ongoing. Plans are to debrief with these teachers, improve the curriculum according to their suggestions, and then prepare it for publishing later this year.
Forty copies of this Truth module went to northern Uganda for Primary teachers connected with SUU. Also one copy went to South Sudan and as a result Juba (capital city) has said "yes" for Scripture Union to teach values in Primary and Secondary schools.
SEND International continues to offer support to VOICE Philippines. If you would like to participate in this project, visit http://www.send.org/info/philippines-voice/.
SEND International is an interdenominational faith mission agency with around 600 missionaries in more than 20 areas of Asia, Eurasia, Europe and North America. SEND's mission is to mobilize God's people and engage the unreached in order to establish reproducing churches. SEND members are multinational and are recruited and sent from sending offices and partner agencies around the world. For more information on SEND's mission and ministries, visit http://www.send.org.