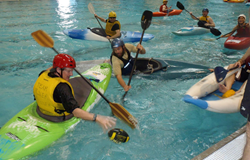 Thanks to kayak football - and kayaking with Team River Runner in general, I've been given that sense of camaraderie and competitive fire again. - Wounded Warrior Brandon Huff
Bethesda, Md. (PRWEB) March 31, 2014
Playing football in a kayak may seem unnatural to some, but not to the wounded and disabled war veterans at Team River Runner. The Rockville, Md. based organization and a chapter of Disabled Sports USA, hosted its second annual Kayak Football Tournament this past Saturday, March 22nd, at the Walter Reed National Military Medical Center. The games featured more than 50 athletes from six different Team River Runner Chapters, including three blind veterans, and three others who played despite arriving in wheelchairs. The double elimination tournament featured 14 games, all taking place at Walter Reed's MWR Aquatics Center pool.
Team River Runner veterans were joined by family members and other volunteers as they passed a foam ball up and down the pool until one team scored a touchdown. For wounded and disabled veterans, kayak football allows them to indulge in a sport that many thought they could no longer play. "Like many people who join the military, my whole life revolved around competitive team sports when I was younger," said Brandon Huff, an Iraq war veteran and current Team River Runner employee. "Unfortunately, because of my injuries, I'm unable to perform in those sports at the same level I once did. But thanks to kayak football - and kayaking with TRR in general, I've been given that sense of camaraderie and competitive fire again. It really doesn't matter what kind of disability or injury someone has, this is a game that puts everyone on the same playing field."
While kayak football doesn't enjoy the notoriety of other adaptive sports, it is slowly gaining in popularity. Team River Runner Executive Director Joe Mornini thinks that one day there will be a National Kayak Football League for disabled and wounded war veterans. "When we began playing kayak football, we set out to create a sport that can be played during both the winter and summer seasons," said Mornini. "We wanted to provide a fun, competitive environment for wounded and disabled veterans to learn leadership skills and make new connections."
Mornini, who co-founded Team River Runner in 2004 and also partook in the games on Saturday, reveled at the level of competition in the water. "It was so much fun to come out and compete with everyone in a tournament like this. Playing kayak football with Team River Runner's war veterans is just carnage - great, fun, carnage!"
ABOUT TEAM RIVER RUNNER
Team River Runner (TRR) was established in August 2004 by kayakers in the Washington, DC area. A 501(c)(3) nonprofit organization with 9 employees, TRR remains primarily a volunteer-based organization, supported by grants, and corporate and individual donations. Initially established to help active duty personnel wounded in Iraq and Afghanistan and recovering at Walter Reed Army Medical Center, TRR now serves wounded and disabled veterans of all eras at over 40 chapters throughout the United States. For more information, visit http://teamriverrunner.org.