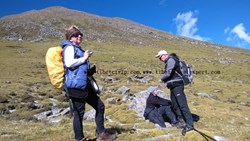 2014 Tibet travel, you should know more!
(PRWEB) January 16, 2014
Travelers are discovering that budget Tibet tours are one the best ways to get the most bang for their buck while travelling in Tibet. Tibet is fairly remote when compared to other popular travel destinations, which can make visiting Tibet a pricey adventure. Lhasa based travel agency TibetCtrip Travel Service (TCTS) is introducing new and improved budget tours for the 2014 Tibet travel season; by limiting group sizes around 10-12 TCTS is able to help travelers save without sacrificing all the comfort and flexibility of a private tour.
Smaller travel groups allow for a more flexible Tibet tour schedule and more opportunities to ask questions; because of the number of travelers, larger group tours often take away from this experience. Many of the places travel groups visit are rich in history and culture, taking time to appreciate these sites and ask questions are key to understanding their significance.
Budget tour options are available to fit almost all traveler interest. Adventure travelers can team up on one of Tibet's famous treks while those looking to learn about Tibetan culture and history can join like-minded travelers on an overland tour that visits sites throughout Tibet. Even travelers on a tight schedule can enjoy an introduction to Tibet in as little as 4-5 days. Whether the travel group is just few friends, family, or a group of students there are Tibet budget tours that fit nearly all interests.
Tibet budget tours by TCTS are one of the best ways to enjoy Tibet without breaking the bank. Travelling in Tibet is a unique experience that allows visitors to take away valuable knowledge and cultural understanding; TCTS believes that keeping the group size small and giving travelers the time they need to engage with their surroundings is the best way to give travelers this opportunity. The 2014 Tibet travel season is right around the corner; travelers are encouraged to start planning their trip now.
Devin Moore, author of this release, is a travel writer and independent economic analyst based in Denver, Colorado USA. In partnership with local Tibet travel agency TCTS (tibetctrip.com), Devin publishes Tibet travel related information in order to spread awareness of Tibet and its people.