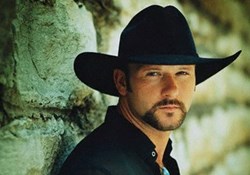 Ticket Monster has the best deals on Tim McGraw concert tickets in 2014.
New York, New York (PRWEB) January 23, 2014
Tim McGraw is hitting the road this summer. On January 13th, McGraw announced his newest single "Lookin' for That Girl" and stated that he would head to 30 different cities on his tour. Fans could purchase the new single on iTunes beginning January 21st. If you are hoping to see Tim McGraw in concert this summer make sure to check back in with Ticket Monster as we will announce the dates to go along with the locations.
Anyone that grew up in the 1990's listening to country music can recite most of Tim McGraw's songs. "I Like It, I Love It", "Don't Take the Girl", "Country Boys and Girls Getting Down on the Farm", "It's Your Love" and "Indian Outlaw" were on country music radio stations throughout the entire decade. Something that has continued to bring the females to Tim McGraw concerts is the fact that he has aged very well. No one would believe that he is 46 years old.
Below are the cities in which Tim McGraw will perform. Remember that Ticket Monster will announce the dates to go along with these cities in the near future.
Sacramento, Ca.
Mountain View, Ca.
Phoenix, Ariz.
San Diego, Calif.
Irvine, Calif.
Pittsburgh, Pa.
Indianapolis, Ind.
Cleveland, Ohio
Hartford, Conn.
Washington, D.C.
Philadelphia, Pa.
Virginia Beach, Va.
Charlotte, N.C.
Raleigh, N.C.
St. Louis, Mo.
Chicago, Ill.
Cincinnati, Ohio
West Palm Beach, Fla.
Tampa, Fla.
Brooklyn, Mich.
St. Clairsville, Ohio
Toronto, Ont.
Atlanta, Ga.
Salt Lake City, Utah
Albuquerque, N.M.
Houston, Texas
Dallas, Texas
For all your music and entertainment news please check back in with the Ticket Monster blog. We offer updates on all the music celebrities and where they will be touring during the spring, summer and fall months. We also offer plenty of information as it relates to getting affordable concert tickets with absolutely zero fees.