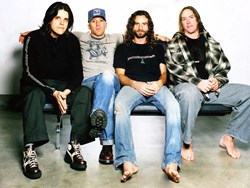 Tool tickets are for sale at Ticket Monster for the lowest prices on the web!
San Francisco, California (PRWEB) February 03, 2014
The American rock band, Tool, has recently announced their 2014 Tool concert tour dates. Although the list of dates is small, it is worth it to catch a show. This leg of their performances in March will be the first in American since 2012. They will begin with their first show in Spokane, Washington, and make their way down to San Francisco and Reno. West coast fans are lucky this time, but who knows where else this group may travel to.
There are rumors of a new Tool album, but nothing concrete yet, as their last album was released back in 2006. This tour may be a little glimpse of what is possibly to come, so fans can get a sneak peak buy attending a show. After their last performance in California, the group will head to Veracruz, Mexico to take part in the Festival Cumbre Tajin. The following are the Tool concert tour dates of the March 2014 leg:
Tues., 04 Mar. Spokane Arena Spokane, WA 8:00 p.m. PST
Thurs., 06 Mar. Moda Center at the Rose Quarter Portland, OR 8:00 p.m. PST
Fri., 07 Mar. Matthew Knight Arena Eugene, OR 8:00 p.m. PST
Sun., 09 Mar. Reno Events Center Reno, NV 8:00 p.m. PDT
Tues., 11 Mar. Bill Graham Civic Auditorium San Francisco, CA 8:00 p.m. PDT
Wed., 12 Mar. Bill Graham Civic Auditorium San Francisco, CA 8:00 p.m. PDT
2014 Tool tickets can be found and purchased at Ticket Monster for the best deals on the web. Ticket Monster has the lowest prices in not only Tool tickets, but all concert tickets, as well as sporting events and theater shows. Ticketmonster.com never charges any extra service fees, and has a world class customer service team that can answer all of your questions. Find your 2014 Tool tickets at Ticket Monster today, or call 866-217-4777 to purchase.