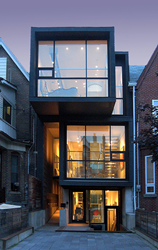 We are thrilled to revisit Toronto and offer another day of modern architecture exploration to our friends in this unique architectural community to our north.
Toronto, Ontario, Canada (PRWEB) May 19, 2014
Modern Home Tours, LLC, is making a return visit to Ontario in June. The 2014 Toronto Modern Home Tour will give residents another opportunity to peek inside some of their city's most amazing modern homes, designed by local architects. The self-guided tour acts as a city-wide gallery of local residential architecture, giving designers a rare and unique chance to show their impressive work to the public.
So far, five homes have been accepted and confirmed for the tour, and there are more in the application process. The final line-up will consist of five to eight architecturally progressive and contemporary homes that exemplify modern living in and around the Toronto area, including:

Artist Charles Pachter's home, studio, and galleries --Pachter Hall and Moose Factory-- in Toronto's Chinatown district. The home and studio buildings were designed by Teeple Architects and built in 2005, and have won the Ontario Association of Architects Award of Excellence, a Plachta Award, and the Design Exchange Award.
The "Driveway House," designed by Spaces by Rohan, which is a small home in Little Portugal built entirely in a space that was previously a driveway for two cars that features radiant floors, interior walls of glass, roof-top cedar deck/patio, and 95% LED-based lighting inside.
A new three-story, single-family house, designed by Weiss Architecture & Urbanism Limited and built on a typical long and narrow Victorian lot near Dovercourt Park, that presents a solid and stately front façade utilizing traditional Toronto red masonry, but impresses visitors with its surprisingly light and airy interior.
A modern renovation and addition, by LineBox Studio, to an existing residence in Swansea originally built in the 1920's that focuses on maintaining a balance between old and new, while adopting a green building design in sustainable matter
One of Toronto's "Tiny Town" mini-homes (just 566 sq. ft.), designed by LineBox Studio, that embodies a "hard loft" style with an industrial aesthetic and flexible floor plan, which creates an open and spacious feel in the home, despite the small footprint.
In addition to the homes featured on the tour, attendees can visit the tour's designated 'rest stop': the STACKLAB showroom, a Toronto-based multidisciplinary design and fabrication studio, led by Jeff Forrest. Complimentary refreshments will be served and tourgoers can browse some astounding examples of modern furniture.
Art City in St. James Town has joined the tour as the local non-profit partner. They will help staff the event and use the tour as a fundraising vehicle.
Modern Home Tours founder, James Leasure, says the excitement to return to Toronto is great: "Toronto is one of the most vibrant and progressive cities in the Americas; it was a great choice for our first international tour in 2013. We are thrilled to revisit Toronto and offer another day of modern architecture exploration to our friends in this unique architectural community to our north."
Architecture expert and Modern Home Tour consultant, Ingrid Spencer, adds: "Toronto rivals Montreal as Canada's cultural capital, and a strong economy and growing population has brought a real renaissance to the city's residential architecture. Creative modern architects are teaming with forward-thinking clients to build houses that take residential architecture and green living to the next level. It was a lot of fun to witness last year, and we are expecting another full palatte of modern design to ingest on this year's tour."
Participating homes on the 2014 Toronto Modern Home Tour will open their doors for viewing from 11 p.m.– 5 p.m., Saturday, June 7th. All homes are located in the greater Toronto area, and all participating architecture firms are local businesses. Tickets are $30 USD in advance; $40 USD on the day of the tour, available at designated locations. Everyone is invited; kids under 12 are free.
For more details and a current list of homes and participating architects, visit http://modernhometours.com/event/toronto
About Modern Home Tours, LLC: Based in Austin, Texas, Modern Home Tours, LLC was founded by partners Matt Swinney & James Leasure in 2010 to introduce modern architecture and living to people across the nation. Through fun and informative tours in dozens of cities across the USA and Canada, the group invites people into some of the most exciting examples of modern architecture and design in the nation. With carefully selected architects, neighborhoods and architecture, the Modern Home Tours are unlike anything you've ever seen. Not only will you learn about the cutting edge of home design while on our tours, but you might even get an idea or two for your next home project!