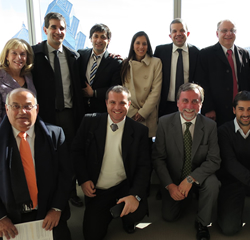 I am excited for the future and the many opportunities that will be derived from these actions.
San Antonio, TX (PRWEB) April 30, 2014
Making Sense, an IT company strongly committed to raising market awareness of the Argentine software sector abroad, today announced that Argentina has become a major player in the global economy, especially in the software development and tech sector.
The country has a lot to offer to US firms as an information technology strategic partner and for this reason last March 3rd-5th, 2014 Making Sense's CEO Cesar DOnofrio, along with CMO Nancy Medica representatives from CESSI and ArgenTInaIT participated in the Argentina Software and IT Trade Mission to the United States, in both Washington, D.C. and Austin, TX.
After discussing the benefits of the software mission to promote Argentine software products abroad Nancy Medica remarked, "As I sat in meetings and luncheons, and listened to different presentations, I was happy to see how Argentine companies's global projection is expanding as one quarter of its production is exported to international markets. I also knew that after this trade mission I would find a couple of new ideas or methods to continue promoting Argentina as an attractive information technology strategic partner."
Making Sense's CEO Cesar DOnofrio also made reference to the software market in Latin America and said, "Looking back I am proud I had the opportunity to represent Argentina as a large pool of very talented and innovative professionals on this mission. I am excited for the future and the many opportunities that will be derived from these actions. This mission trip has encouraged me and many leaders at Making Sense to increase even more our involvement to support this country that has so much to offer in the software sector."
About Making Sense
Making Sense is an IT company that has specialized in the development and implementation of software and web applications for different companies since 2006. It has over 120 employees who work in different offices located in the United States, Argentina and Mexico.
The company offers the latest software development strategies, and has many partners worldwide. Some of its most prominent clients include Rackspace, DELL and AMD. The products Making Sense is well-known for include Doppler™, the most widely used email marketing tool in Latin America, which allows users to create, send, analyze and optimize email marketing campaigns very simply, quickly and effectively. Also Lander™, a software tool that enables the creation of professional landing pages in minutes and boasts active users in more than 132 countries worldwide.
In recognition for its work in fostering ArgenTIna IT outsourcing to the U.S., Making Sense received a special mention at the Polo IT Buenos Aires event in December 2012 and was chosen as the national representative to the United States ArgenTIna IT office in Austin, Texas.
Consistently demonstrating a high degree of technical excellence, Making Sense is passionate about maintaining strong commitments to offering outstanding service and quality custom software products.
In 2013, two products developed exclusively by Making Sense were nominated to receive the prestigious Sadosky Awards: VidTac gives police department patrol cars high definition video capability while cutting equipment costs. It was developed through joint collaboration with COPsync, which operates the nation's largest real-time information sharing, communication and data interoperability network for law enforcement agencies.
The prestigious Sadosky Awards are awarded each year by CESSI, The Chamber of Software and Computer Services of Argentina, in honor of Manuel Sadosky, an illustrious scientist widely regarded as the father of the Argentinian computer science profession. They celebrate and honor excellence and innovation in the Argentinian software industry. Making Sense is pleased and honored to announce that our product Lander won the 2013 Sadosky Award in the category of Best Information Entrepreneurship Product.
Contact:
Making Sense LLC
Juan De Abreu
VP, Director of Client Services
866.976.8914
jdeabreu(at)makingsense(dot)com