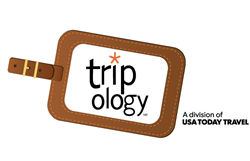 Travel planning pros are tapping into this solid source of new business full force with many even hitting the half million, million dollar, and even 1.5 million dollar mark in gross sales from Tripology leads.
MCLEAN, VA (PRWEB) October 31, 2014
Leading travel referral service Tripology, a division of USA TODAY Travel Media Group, is pleased to report that the company has been experiencing a boom in new agent registrants to use Tripology's qualified travel leads. The company has seen an impressive increase of 34+ percent in agent registrations year-over-year and that momentum continues. As part of USA TODAY's Travel Media Group, Tripology maximizes exposure to millions of consumer travelers looking to plan their vacations with the aim of boosting trip requests, and registered agents are benefitting with new clients and bookings.
"We are thrilled to see that more and more travel professionals are choosing Tripology as their lead generation option with an increase in new agent registrations of 34-plus percent year-over-year," said John T. Peters, president of USA TODAY Travel Media Group. "We further look forward to seeing that affinity increase with our vastly expanded consumer reach as part of USA TODAY's Travel Media Group that continues bringing even more highly-qualified leads to our registered travel agents."
Tripology's unique service has proven effective in boosting income for thousands of travel agents, including many who name Tripology their preferred source of new business. The online service matches consumers with travel specialists, known as Tripologists, based on their specific vacation request.
"Travel planning pros are tapping into this solid source of new business full force…with many even hitting the half million, million dollar, and even 1.5 million dollar mark in gross sales from Tripology leads. If you haven't tried Tripology before, now is the time to do so…. if you did try Tripology in the past, and have not used it in a while, it's time to come back," said Peters.
Here is what successful Tripologists are saying about Tripology:

$1,500,000+ in gross sales from Tripology leads – Jamie Bachrach of Wandering Puffin, LLC, says, "I am proud to say that I am into my 6th year of owning the Wandering Puffin travel agency and that I have currently reached $1,537,220.98 in total sales from Tripology leads. I truly believe that Tripology connects dedicated and experienced travel specialists showcasing their niche areas of expertise via Tripology.com with serious clients who want to use knowledgeable travel professionals that are passionate about creating amazing travel adventures for their new found clients.
$1,000,000+ in gross sales from Tripology leads – Jimmy Campbell of Cleland Travel Planners says, "It's hard to believe, but my first Tripology lead was on July 8th of 2008. The client was a government contractor in Baghdad. I arranged a trip for him to meet his wife from Kansas in London and then the two travelled on to Dublin. Bookings have been steady ever since. In 2009, I topped $200,000 in bookings from Tripology leads and have continued with about $250,000 each year since, reaching over one million dollars in sales. The relationship with Tripology could not be better or more professional. I look forward to the next six years.
$780,000 in gross sales from Tripology leads – Sandi MacKenzie of A TICKET 2 TRAVEL says, "Tripology has given me more for my marketing dollars than any other form of advertising that I could choose to use. It is my #1 marketing tool and has provided a nice chunk of my business over the past few years. I have had a very high success rate with this program receiving repeat business as well as referrals from the leads. The service is outstanding and the website allows you to specify the types of leads and destinations you want to focus on. I highly recommend it to anyone looking to increase their business."
$300,000 in gross sales from Tripology leads – Lee Pettyjohn says: "I began purchasing Tripology leads in June 2009. I have to say that I am 'sold' on the Tripology lead source! I purchased a lead for a mere $1.25 three years ago. My commission for that booking was over $500, and each and every year I book that same client twice a year! I would say that is a huge return on a very small investment! I have tried other lead sources but have found Tripology to be the best by far! My business wouldn't be what it is today without Tripology!"
$300,000 in gross sales from Tripology leads – Jon Haraty of Jon's Dive & Travel Services has found Tripology to be a successful way to harness the reach of the Internet to garner new clients. He says, "I love working with Tripology because it allows me to reach out to clients that I could not reach in the past. They are clients looking for my niche experience. I could never have the volume of business that I have if I focused on this niche targeting only my local area. The return on investment far exceeds the cost of the leads."
$250,000 in gross sales from Tripology leads – Jennifer Byrne of The Tropical Travelers names the interactive service as her top source of new business development. She says, "Tripology is my whole business. It's my calling card and brings in most of my leads."
Tripology.com has been appropriately designed to be easy and risk free for specialists to join and use whenever they seek incremental business. The site's user-friendly interface and tools help ensure the success of the travel specialist industry. Plus, registration is free; there are no membership fees and no minimum purchase necessary. Travel professionals only purchase the leads they want.
Registered agents of Tripology.com now have even greater exposure to USA TODAY Travel Media Group's 5.3 million unique monthly visitors who are seeking travel planning expertise. As part of a strategic initiative of USA TODAY, Tripology is now being featured as a prominent element of the Travel Media Group's websites -- including a highly visible trip request widget on each site's homepage that encourages travelers to connect with a professional travel planner via Tripology.com. These sites include the travel section of USA TODAY, 10Best.com, Experience Cruises, Experience Caribbean, Experience Beach, Experience Food & Wine and many other Experience Travel sites.
"With more exposure to consumer travelers than ever before and the economy turning up, we anticipate a great influx of new trip requests for the coming winter travel season and encourage agents who are not yet taking advantage of the Tripology travel leads service to register for free today at Tripology.com/agent to get your share of new clients looking to plan their travels now," said Men Gorleku, Relationship Manager at Tripology. "We are pleased to provide travel specialists with the service, marketing support and training opportunities to maximize their use of Tripology to further stand out from the crowd and find new clients to make into customers for life."
For additional information about Tripology, visit Tripology.com. Travel specialists can access the company's dedicated agent website at Tripology.com/agent for information on how to become a registered Tripologist.
About Tripology
A division of USA TODAY, Tripology is the leading online travel referral service that matches consumers with travel specialists, known as Tripologists, based on their specific vacation request. The service provides the best of both worlds for travelers and travel professionals. For travelers, Tripology combines a content-rich online experience with access to travel professionals for the personal attention and service they seek. For travel specialists, Tripology is a cost-effective way to get qualified travel leads. By way of links to Tripology.com from many USA TODAY products, sites, and apps, tens of millions of travelers are exposed to the Tripology system of using travel specialists to plan a vacation, furthering the goals not only of Tripologists but also of the entire travel agent community. Tripology launched in 2007. Using proprietary technology to match travel professionals with consumer requests, the company has received and processed nearly a quarter of a million trip requests. For more information, visit Tripology.com.