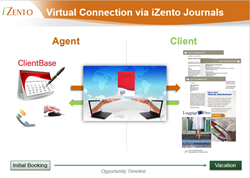 Our new technology not only creates comprehensive itineraries from ClientBase data instantly, it also gives agencies better, more accurate client data by catching any errors on Res Card data input into ClientBase
SAN FRANCISCO, CA (PRWEB) October 31, 2014
Travel technology company iZento today announced a new webinar series and express demos collection to help travel planning pros maximize the benefits of the new ClientBase-iZento Connector that utilizes Res Card data and applies iZento's Trip Optimizer™ technology to create a fully customized travel itinerary in less than one minute while helping agencies enhance the quality of their client data with technology that catches errors and omissions in data input into ClientBase.
"Our new technology not only creates comprehensive itineraries from ClientBase data instantly, it also gives agencies better, more accurate client data by catching any errors on Res Card data input into ClientBase, ensuring that the reservation is correct, the traveler experience is enhanced, the agent looks great, and the agency builds the best customer loyalty for repeat business," said Judy Roberts, Co-founder of iZento. "It also protects agencies from errors and omissions that can be caused by mistakes on the Res Card."
The live and recorded webinar series will include training modules for both frontline agents and for admins, and will be held on scheduled dates through December. A calendar of webinars scheduled for the month is accessible at: izento.com/agent.php/freewebinar.
Webinars for frontline agents showcase best practices for using Res Card data along with the iZento API technology's quality controls that is transformed by the application to create a professional online document that delights clients and offers opportunities for agents to increase revenues with incremental sales.
For admins, the company has developed an "Introduction to the ClientBase-iZento Connector for Agency Owners & Managers" webinar that shows you how the ClientBase-iZento Connector can help the agency increase revenue, raise client retention and enhance the quality of booking data.
In addition to taking advantage of iZento's webinar series, agents and agency owners or managers will now be able to access short and easy to view "Express Demos" for the ClientBase-iZento Connector (Windows Format) that address topics such as:
-- How to Place Ads in Your Agency's Trip Journals;
-- Hidden Secrets of Your Itineraries Page;
-- Res Card Quality Reports;
-- How to Add Agent Recommendations in less than 1 minute with Live Connect.
In addition, iZento has published a comprehensive set of references guides that can be viewed online or downloaded at: izento.com/agent.php/referenceguides on such topics as:
-- ClientBase-iZento Connector for Agencies - From Booking to Professional Travel Docs in Minutes
-- ClientBase-iZento Connector Account Set Up – How to set up your agency account
-- Res Card Best Practices – Great trip journals from your Res Card Data
-- iZ Pro vs ClientBase-iZento Connector - A side by side comparison of iZento products for agencies
Along with the valuable new training offerings, iZento is pleased to offer agencies, consortia groups, and host agencies a 30-day complimentary trial of the iZento Vacation API + ClientBase Connector so they can run real bookings through the Connector to preview results before they sign up for this innovative offering.
For additional information about the new iZento Vacation API + ClientBase Connector or to request a free trial, contact: Tom Milgate at (585) 294-5054 or Judy Roberts at (925) 274-1995, or email sales (at) izento.com.
About iZento:
iZento provides patented technology solutions for travel providers, travel technology companies, travel agents and travelers. Established as the most comprehensive online travel planning and itinerary building service with tools and resources designed specifically for travel professionals, iZento began delivering customized private label solutions in 2009.
The iZento Travel Provider Platform is available to travel industry providers who are looking to differentiate their offerings and create new revenue streams. Completely customizable, the platform can be implemented to transform a company's raw data to create interactive itineraries and serve as a novel marketing engine. The company's subscription service for traditional and home-based agents continues to grow and provide travel specialists with a cost effective and easy-to-use option for building complex itineraries with swift efficiency. iZento's development processes are effected by The Nerdery (nerdery.com).
For additional information on iZento technology for Travel agents, travel suppliers, and travelers, visit the company's website at iZento.com. or email sales (at) izento.com