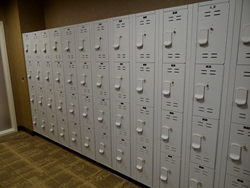 "The Tufftec lockers have been everything we expected," said Matt Hackbarth, of HOK, the hospital's architectural firm. "They don't show marks easily and fit very well with the overall aesthetics."
Scranton, PA (PRWEB) March 03, 2014
The University Hospital in Columbia, MO, which operates under The Missouri University Health Care System (MUHC), recently opened a new $190 million patient care tower, which serves thousands of cancer patients annually. A key component in the project was the addition of 700 Tufftec Lockers from Scranton Products for use throughout the facility, including 10 separate locker rooms. Chosen for their longevity and recycled content, the Tufftec lockers in Sand Castle color were installed to support the facility's physicians, nurses, patients and visitors.
The new eight-story edition features 90 private rooms with smart technology, six operating rooms, a 7,000-square-foot inpatient pharmacy, and a 100,000 sq. ft. cancer center. To achieve LEED Silver Certification the facility installed a lush garden featuring a waterfall, low VOC-emitting finish materials, high-efficiency glass, 10,000-square-feet of green roofs and a rain screen exterior wall system.
"The new patient tower is part of a three-phase program to completely replace the hospital on the same site and accommodate every patient wellness need with the highest levels of expertise and comfort." says Doug Miller of S. M. Wilson & Co., a construction management, general contracting and design/build firm headquartered in St. Louis.
Engineered for strength and durability, Tufftec's HDPE material withstands the harshest daily use, while remaining virtually maintenance free. The lockers are also impact, dent and graffiti resistant as well as impervious to moisture. With a standard 50% pre-consumer recycled content, Tufftec's HDPE is naturally resistant to bacteria, mold and mildew. In addition, they are Children & Schools GREENGUARD Certified for indoor air quality, 100% recyclable and contribute to LEED points. The lockers are designed to endure the wear and tear of athletic and recreational environments.
"So far the Tufftec lockers have been everything we expected," said Matt Hackbarth, of HOK, the global firm responsible for the design, architecture, engineering and planning of the University Hospital patient care tower. "They don't show marks easily and fit very well with the overall aesthetics. The building's only been open for a few months, but the initial impressions have been outstanding. Everyone has been particularly impressed with their usability and durability. They both look and work great."
Hackbarth added, "Tufftec's recycled content made them the ideal choice for the tower's eco-friendly design and mission to capture LEED Certification status. I've had excellent experiences with Scranton Products in the past and had no doubts about their reliability and longevity this time around. The Tufftec lockers met our criteria on virtually every level."
To learn more about Tufftec lockers, visit http://www.scrantonproducts.com.
About Scranton Products:
For more than 25 years, Scranton Products' premium brands have led the plastic partitions market setting new benchmarks for the industry in quality and delivery. Our well-known brands, including Hiny Hiders®, Resistall™ and Tufftec®, feature the most durable, low maintenance and best looking partitions, lockers and industrial sheet products in the industry. They won't dent, rust or need painting, and because they have color throughout, delamination is not a factor. For more information, visit http://www.scrantonproducts.com.