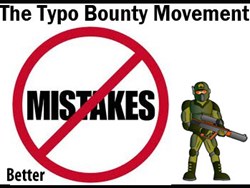 we need internet users to support this thunderclap with their social media accounts, making it as large as possible
Houston, Texas (PRWEB) January 02, 2014
The Typo Bounty Movement launches a Thunderclap http://thndr.it/1ahmr6h which seeks to improve internet content via website owners placing bounties on content errors. Internet users are invited to support this Thunderclap and spread the word about this new movement that allows internet users to report typos in exchange for $2 payouts each.
The Typo Bounty Movement is the brainchild of Andre Roberson, an inventor based in Houston, Texas that focuses on creating synergistic collaborations online. #typobounty
"I studied the problem with typos and discovered that readers hate them and businesses can't afford to have them in their content. I found that bringing the writers and the readers together to eliminate the typo problem can be very lucrative for both groups. I have built a patents pending portal that allows transactions to be handled smoothly (TypoBounty.org). I just need internet users to help make this Thunderclap as large as possible in order for the movement to be hugely successful," says Andre Roberson, president of TypoBounty.org
The Internet is huge! It takes millions of people to proofread it and keep it clear. Early on, the way was being lead primarily by women and college students but we are seeing the demographic expand nicely.
A simple search proves the need for this type of collaboration. Opportunities to help are all over the Internet. For example: A popular search engine shows the word "receive" was misspelled as "recieve" on 14,800,000 web pages. At the average payout of $2.00 per report, that's a potential 29 million dollars up for grabs, and that is just one root word. That money could help a lot of families and businesses as money earned online is often spent online.
"Since we all use the internet for our information needs, we all have a stake in its quality. We need 1 million people to decide they will accept the money when they see typos. So, we need internet users to support this thunderclap with their social media accounts, making it as large as possible to help announce to the world that a new standard is coming," says Andre Roberson
We ask Internet users to lend their voices to this cause by using their Twitter and Facebook accounts to support the Thunderclap for the Typo Bounty Movement here http://thndr.it/1ahmr6h.
Watch this video http://www.thunderclap.it.