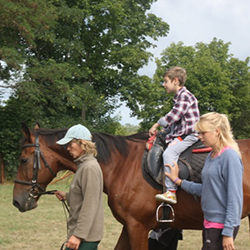 Members of Sumy Grace Church run the camp and serve the kids and their caregivers physically, spiritually and mentally.
Detroit, Michigan (PRWEB) June 27, 2014
Children with special needs and their caregivers are spending the week at Grace Camp in Sumy, Ukraine. June 23-29 is the highlight of the year for many of these kids as they enjoy the outdoors and the special camp program. Members of Sumy Grace Church run the camp and serve the kids and their caregivers physically, spiritually and mentally.
This is the fourth year for the Special Needs Camp. It began when, five years ago, a local organization working with the families contacted the camp leaders asking if they could rent the camp for the week. The first camp was such a success that it has become an annual tradition. Last year, over 70 children and their caregivers participated. Since many of these families are poor, the camp cost is covered completely by donations.
After the first camp, Sumy Grace Church launched monthly meetings for the campers and their families throughout the year, as well as special events. Through these meetings, several caregivers have accepted Christ and have begun to attend church.
The Special Needs Camp is the first of five camps held at Grace Camp this summer. Formerly a Soviet Pioneer Youth Camp, it was bought in 2002 by Sumy Grace Church, in partnership with SEND International, an evangelical missions organization focused on church planting. Through the joint ministry of the church and SEND, it has built an excellent reputation throughout the area, reaching about 400 children and youth each summer. The camp also serves as a retreat and conference center year-round, assisting local churches in their ministries.
Political instability in the region threatened camp activities this summer. For several months, the Sumy ministry team has been praying and preparing tentatively in faith that these ministries would take place.
SEND International is helping to raise funds for the camp and ongoing ministries to the children and their families. To sponsor a camper, visit http://www.send.org/info/sumy-grace-camp/.
SEND International is an interdenominational faith mission agency with around 600 missionaries in more than 20 areas of Asia, Eurasia, Europe and North America. SEND's mission is to mobilize God's people and engage the unreached in order to establish reproducing churches. SEND members are multinational and are recruited and sent from sending offices and partner agencies around the world. For more information on SEND's mission and ministries, visit http://www.send.org.