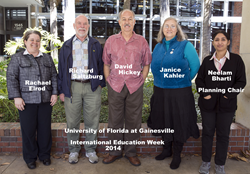 There are only two ways to live your life. One is as though nothing is a miracle. The other is as though everything is a miracle...Albert Einstein
San Francisco, CA (PRWEB) November 17, 2014
Neelam Bharti, Chair of the Planning Group of the International Education Week (IEW) to be held at the University of Florida Gainesville on November 17 - 21, 2014 has a busy week of activities, resources, demonstrations, International academic exchanges, music, and a myriad of resources along with an open house and refreshments planned. Their Disabilities Resource Center will provide information and a speaker opening discussions and interactions around disabilities of all kinds.
Janice Kahler, a member of the Planning Group discovered the work of the Blind Judo Foundation, a nonprofit organization introducing and training blind and visually impaired individuals in the sport of Judo. "One would not think of a sport like Judo for the blind, visually impaired or others with disabilities" says Ms. Kahler. Therefore she contacted Ron C. Peck, Co-Founder of the Blind Judo Foundation looking for participation support for the November 17 – 21 kickoff of the IEW.
"Judo is such an empowering and life enhancing sport benefiting those with disabilities" says Ms. Kahler. Her Group will feature Judo demonstrations for various disabilities along with a continuous feed of a documentary called Blind Judoka. The documentary is of a blind female, a member of the US Paralympic Judo Team, as she travels the road to the 2012 Paralympic Games in London.
The Blind Judo Foundation called upon Head Instructor Sensei John Kammer at The Academy of Japanese Martial Arts who teaches Judo in Ocala and Gainesville, FL to demonstrate Judo along with his cadre of Judoka (Judo athletes). Individuals with disabilities will have an opportunity to experience Judo from 1:30 p.m. – 2:00 p.m. right at the Smathers Library (East) in Room 100 or weather permitting at the entrance to the Library.
Head Instructor Sensei Kammer has 7 black belt instructors with several University of Florida students already enrolled into the his Judo program. The Academy known as TAJMA is also a nonprofit 501(c) (3) organization with over 200 combined years of Judo knowledge offering a vast perspective to teaching and creating a college of instruction for those interested in enhancing their lives using Judo as the foundation.
The Academy also has a proud history with several of their Judoka (students) taking medals at various local and regional competitions. Judo for individuals with disabilities is not new to Sensei Kammer's Academy and his experienced team.
You will be able to see Sensei Kammer and his instructors in person on Monday, November 17, 2014 between 1:30 p.m. – 2:00 p.m. at the Smathers Libraries on the campus of the University of Florida in Gainesville. Come early to learn more about The Academy. If interested in learning more about Judo in Ocala and Gainesville call Sensei Kammer at 352-234-4334 or email ippon(at)tajma-dojo(dot)com
About us:
The Blind Judo Foundation is a nonprofit 501(c) (3) organization that introduces and trains blind and visually impaired children, young adults and returning blind and visually impaired military men and women in the sport of Judo. Supporting our blind athletes to train, travel and compete relies upon tax-exempt donations.
All members of the Blind Judo Foundation are volunteers. A select few of our elite athletes go on to represent the USA as members of the US Paralympic (not to be confused with Special Olympics) Judo Team. Check out the Foundation and our Facebook page at http://www.facebook.com/BlindJudoFoundation or by contacting Ron C. Peck at roncpeck(at)blindjudofoundation(dot)org and 1-425-444-8256.