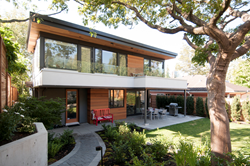 Vancouver, British Columbia, Canada (PRWEB) September 18, 2014
This weekend is the kick-off for the Modern Home 2014 Fall Tour, which includes stops in Texas, California, Colorado, New Mexico and Canada. During the 2014 Vancouver Modern Home Tour, attendees will have the opportunity to explore seven modern homes in the Vancouver area that exemplify modern architecture and living. Tourgoers can get the inside scoop from homeowners on what it's like to live in a modern home, and talk to the architects to find out where they got their inspiration. This is every Vancouver resident's chance to see the inside of 'that unique, cool house you always drive by…'
For a second year in a row, the Vancouver Modern Home Tour will be a featured event within Western Living Magazine's Design Week. This year's Design Week runs from September 18th to the 28th and kicks off with Western Living's annual Designers of the Year Awards. The week features art shows, talks, tours, fundraisers, live auctions, gala dinners and ends with the Interior Design Show West.
The Chip and Shannon Wilson School of Design (part of Kwantlen Polytechnic University) has been named as the 2014 Vancouver Modern Home Tour local beneficiary. Fashion marketing students will help staff the event, in return for a small donation to the school's program, the opportunity to use the tour as a fundraising vehicle, and contributing community service hours, a cornerstone of the applied learning that Kwantlen students are known for.
Seven of the area's most amazing modern homes have been confirmed for the 2014 Vancouver Modern Home Tour. Participating architects and featured locations include:

A home designed by architect Oliver Lang (of Lang Wilson Practical in Architecture) and built by the Vanglo Sustainable Construction Ltd., located in the Mt. Pleasant area of town, that features a three-bedroom house above a one bedroom self-contained garden suite (below), and a mid-sized flex room equipped to be a either a media room, office, storage, yoga studio, suite extension (second bedroom), or car garage.
The Shaughnessy home of architect David Thom (of IBI Group Inc.) and interior designer Juli Hodgson (of Hodgson Design Associates), which sits on a steep lot that offers unique perspectives of the outdoor elements from inside the house through large windows and sliding glass doors on the first floor and breathtaking vistas of the mountains and the ocean from the second floor.
A home by Frits de Vries Architect Ltd. near Valdez Park in Dunbar that features both downtown and mountain views from the front of the house, with a private garden and entertaining patio in the rear, and a rooftop deck that offers the inhabiting family an outdoor living experience with a large seating area and hot tub.
A home right across from Kitsilano Beach Park originally built in 1910 and recently lifted and completely overhauled by architect Sheridan MacRae (of METRIC Architecture) and transformed into a contemporary beach house by Kelly Deck (of Kelly Deck Design); the building now features two suites - one executive rental and one owner-occupied loft style unit on the upper floors.
A second home from Frits de Vries Architect Ltd., located right in the heart of West Vancouver, that is organized around a feature interior double-height division, bisecting social and family areas, keeping the home's private and public spaces separate.
A West Vancouver home designed by Peter Hildebrand (of Iredale Group Architecture) that features stunning views over Vancouver and Mount Baker beyond, and makes excellent use of natural light penetrations, thanks in part to an oversized skylight located above the two-story main entrance.
A home in West Vancouver's Eagle Harbor, originally built in 1978, but recently re-designed, decorated and inhabited by Anja Henche of ah-design, which features very open and bright interiors that male the very square, tall home's owner feel like living in a large treehouse.
Participating homes in the 2014 Vancouver Modern Home Tour will open their doors for viewing from 11AM – 5PM on Saturday, September 20th, in the Vancouver, British Columbia area. All are invited to attend. Tickets for the tour are $30 in advance online; $40 on the day of the tour. Kids under 12 are FREE when accompanying their parents.
For more details, to see a current roster of homes with details and photos, and to buy tickets for the Vancouver Modern Home Tour, visit: http://modernhometours.com/event/vancouver-modern-home-tour.
About Modern Home Tours, LLC: Based in Austin, Texas, Modern Home Tours, LLC was founded by partners Matt Swinney & James Leasure in 2010 to introduce modern architecture and living to people across the nation. Through fun and informative tours in dozens of cities across the USA and Canada, the group invites people into some of the most exciting examples of modern architecture and design in the nation. With carefully selected architects, neighborhoods and architecture, the Modern Home Tours are unlike anything you've ever seen. Not only will you learn about the cutting edge of home design while on our tours, but you might even get an idea or two for your next home project!