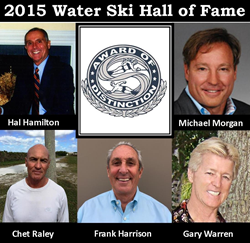 Polk City, Fla. (PRWEB) December 18, 2014
The USA Water Ski Foundation Hall of Fame Selection Committee is proud to announce the 2015 Water Ski Hall of Fame Award of Distinction recipients.
Hal Hamilton, Frank Harrison, Dr. Michael Morgan, Chet Raley and Gary Warren have made extraordinary contributions to our sport and will be honored at the Water Ski Hall of Fame Induction Ceremonies on April 18th at Fantasy of Flight in Polk City, FL along with Hall of Fame Inductees Bill Bowness, Kim Laskoff, Jennifer Leachman LaPoint and Jeff Rodgers.
Hal Hamilton
Hall Hamilton has dedicated his life to the sport of water skiing both on and off the water. An avid tournament skier and Cypress Gardens show skier, Hal was also a Correct Craft dealer and bought Robert's Sport Goods, selling boats, water skis and sports equipment. With his strong passion for the sport, Hal was determined to find ways to promote water skiing. One of the pioneers of the early pro events, Hal founded the Iron Man Tournament in 1976. The tournament proved to be a great concept that brought high spectator attendance, publicity and media attention to the sport. The Iron Man was a highlight event on the water ski calendar and ran annually until the Pro Tour started in the 1980s. Hal has continued to be involved in the sport on many levels and won the 2008 U.S. Nationals Overall in the Men 7 division.
Frank Harrison
Frank devoted more than a quarter of a century of his life to the administration of the sport of water skiing. In 1972, Harrison founded Wet Set Village, one of the first residential water ski communities in the country.
With a passion for the sport, Frank started his administrative career as a Western Regional Councilman, moved up to EVP and then Director for the region. Frank served as Treasurer of the AWSA in the late 80s and then as Chairman of the Board. Frank continued his service on the International Activities Committee as both a member and as Chairman for more than 25 years, during which time he was the team manager for many U.S. Elite Team victories in multiple Pan Am and World Championships as well as at the Pan Am Games. Frank was the U.S. representative from the Pan Am Confederation to the IWWF Congress for many years and also a member of the IWWF HOF Selection Committee.
Michael Morgan
Dr. Michael Morgan is well known throughout the water ski world as much for his water ski talents as for his water ski family. Mike had a sterling career on the water winning 43 U.S. National Championship titles, setting nine U.S. records, and was a member of three U.S. World Championship Teams. Morgan began skiing in 1972, won his first Nationals in 1975 and joined the Pro Tour in 1980. Mike was a four time Pro Tour Champion and a three time U.S. Open Champion. In 1987, Mike retired from professional water skiing to focus on medical school and went on to become a successful doctor. Mike continues to compete and has won 3 Big Dawg Championships and a 35+ World Championship title. Water ski greatness runs in the Morgan family. Mike's father Dr. J.D. Morgan was given the Award of Distinction in 1993 for his outstanding career and service to the sport; and the family legacy continues with Mike's daughters Lauren and Jenna. Mike is also involved in promoting the sport; he co-founded the Soaked pro tournament and founded Girls that Fly.
Chet Raley
Chet Raley has long been one of water skiing's most sought-after coaches. His devotion to the athletes he coaches and attention to detail in his methods drive his ability to produce the champions of tomorrow. While he is well known for his coaching abilities, Chet is also an excellent skier himself and was an innovator in early wakeboarding techniques. Chet learned to water ski at a very young age, trying multiple disciplines on the water and has competed in local, regional and National tournaments over the years. His more recent accomplishments as a world champion and Big Dawg competitor have helped him to become an even better coach. Chet's wakeboard coaching brought him worldwide notoriety. He is credited for one of the most groundbreaking tricks in wakeboarding - the "Raley" which carries his name. This evolved while Chet coached Hall Of Fame wakeboarder Darin Shapiro. The Raley is one of the core skills on both cable and boat teaching a rider how to use the tension of the rope and the speed one generates to control oneself in the air. A Raley is the basis of most technical maneuvers. Chet Raley operates the Palm Beach Training Center in Boca Raton and has earned guru-like status throughout his 20+ years of coaching in both water skiing and wakeboarding.
Gary Warren
Gary Warren became a professional show skier at age 16 doing doubles and barefoot exhibitions throughout the western states. He performed show acts and barefoot exhibitions at the 1963 Nationals and 1961 World Water Ski Championships in Long Beach. This led to Gary being hired as a show ski performer at Cypress Gardens in 1963. It was at Cypress Gardens that Gary further perfected his skills in all events including barefooting, show skiing, jumping and kite flying. Following his service in the army in Vietnam, Gary was hired to do the ski shows at Marine World in California. In addition to the many shows he directed, Gary developed a concept for staging a professional water ski tournament at Marine World that in 1975 became a reality. Filling the 4000 seat stadium, it eventually became the must see event of the year in Northern California. Hosting competitors from all over the world, the media coverage brought much notoriety to the sport with coverage on major television networks. During Gary's 13 years at Marine World, he also became one of the pioneers in using the Delta Wing Kite and designed one of the first "super jump ramps." Gary produced the largest grossing events the park had ever seen. Following his time at Marine World, Gary has continued to be involved in promoting the sport through various events, media and marketing around the country.
####
About the Award of Distinction
The Water Ski Hall of Fame Award of Distinction was created to recognize individuals who have made extraordinary contributions to our sport. They may include tournament skiers, innovators, industry leaders, officials, and others responsible for landmark achievements in the development of water skiing as well as those whose long periods of dedicated and generous service deserve recognition. To see a list of past recipients, eligibility requirements, nomination forms and more information, visit the official Web site of the USA Water Ski Foundation at http://www.usawaterskifoundation.org