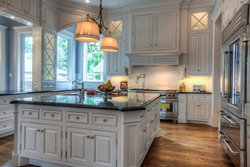 We've worked with Whitestone Builders for over 7 years and they are one of the most reputable builders we work with. They do amazing work and have an exemplary record with our clients; we cannot recommend them highly enough."
Houston, Texas (PRWEB) October 22, 2014
Whitestone Builders, a Houston based builder of custom luxury homes today announced that it was the winner of multiple awards from the Greater Houston Builders Association (GHBA). Founded in 1941, GHBA is reportedly the largest home builders association in Texas and the fourth largest in the nation.
Whitestone Builders was the winner of three categories: Custom Home Design, Custom Home Kitchen, and Custom Home Elevation; and was a finalist for Custom Home Bath and for an additional submission in Custom Home Elevation. Each award was in the category for custom homes priced between $500K and $1.0MM, which is the target sector for Whitestone Builders.
GHBA has long held the annual PRISM (Professional Results in Sales & Marketing) competition which uses an independent panel of industry specialists who are chosen from across the nation to conduct the judging. Each year, GHBA members can submit their entries to selected categories and the panel judges the entries. This year's winners were revealed during a black tie ceremony held on October 4th at Houston's Royal Sonesta Hotel.
Managing his own construction crew as a teenager and then earning a degree in Construction Management, Whitestone Builders President, David Gordon, has always had a deep passion for the building industry. Regarding the panel's selection of Whitestone Builders as an award recipient, Gordon said "I am thrilled to have won awards in multiple categories. Whitestone Builders was founded on the premise that we would be able to set a new standard for quality workmanship in luxury custom home building. The competition this year was extremely tough and we are humbled to have excelled in such a strong field."
As a veteran builder of custom luxury homes in Houston's premier neighborhoods, Whitestone Builders partners with some of the best architects and interior designers in the region. The company has established a reputation among those in the industry, including realtors, for exceptionally high quality craftsmanship, exquisite carpentry and the meticulous processes that are essential during a building project.
Mickey Bufalini of Collaborative Design Group says "We've worked with Whitestone Builders for over 7 years and they are one of the most reputable builders we work with. They do amazing work and have an exemplary record with our clients; we cannot recommend them highly enough."
****
About Whitestone Builders
With a reputation for fine carpentry, period accuracy, and distinctive quality, Whitestone builds customized luxury homes for those with the most discriminating style. Customer focused, Whitestone employs proven, well-defined processes that exceed expectations and create an experience that's second to none. To learn more and view a gallery of custom homes, visit us at WhitestoneBuilders.com and Houzz.