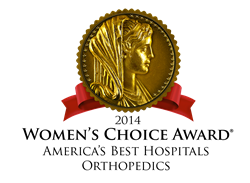 "We have found that recommendations are the single most important consideration used by women in selecting a hospital for themselves and their family." Delia Passi, Founder & CEO, The Women's Choice Award
Ft. Lauderdale, FL (PRWEB) April 30, 2014
The Women's Choice Award is pleased to announce the 2014 winners of America's Best Hospitals for Orthopedics as more women self-manage their care and that of their loved ones, seeking providers they can trust. Providing women with smart orthopedic choices is critically important.
Bone health is a special concern for women, considering they are far more likely to develop osteopenia and osteoporosis than men (WebMD). Of the estimated 10 million Americans with osteoporosis 80% are women, according to the National Osteoporosis Foundation. In fact, half of all women age 50 and older will break a bone due to osteoporosis in their lifetime. About 500,000 knee replacements and more than 175,000 hip replacements are performed annually, with joint replacement surgeries on the rise. Hip replacements are expected to increase 174% in the next 20 years, and knee replacements will rise even more -- 673%, according to a study presented at the American Academy of Orthopaedic Surgeons' annual meeting.
The following elite hospitals are among the 330 America's Best Hospitals for Orthopedics and who carry the Women's Choice Award seal, which signifies their commitment and passion for creating an extraordinary healthcare experience:

Athens Regional Health System - Athens, GA
Butler Memorial Hospital - Butler, PA
CarolinaEast Medical Center - New Bern, NC
Catawba Valley Medical Center - Hickory, NC
Covenant HealthCare - Saginaw, MI
Jefferson Hospital - Jefferson Hills, PA
Kettering Medical Center - Kettering, OH
Lafayette General Medical Center - Lafayette, LA
Margaret R. Pardee Memorial Hospital - Hendersonville, NC
Meadville Medical Center - Meadville, PA
Nebraska Orthopaedic Hospital - Omaha, NE
North Cypress Medical Center - Cypress, TX
Northern Dutchess Hospital - Rhinebeck, NY
Physicians' Specialty Hospital - Fayetteville, AR
Putnam Hospital Center - Carmel, NY
Queen of the Valley Medical Center - Napa, CA
San Angelo Community Medical Center - San Angelo, TX
San Antonio Community Hospital - Upland, CA
Santa Rosa Memorial Hospital - Santa Rosa, CA
St. Mary-Corwin Medical Center - Pueblo, CO
St. Tammany Parish Hospital - Covington, LA
Sycamore Medical Center - Miamisburg, OH
Wentworth-Douglass Hospital - Dover, NH
The Women's Choice Award is the only distinction that identifies the nation's best healthcare institutions based on robust criteria that considers patient satisfaction, clinical excellence, and what women really want when it comes to treatment and a quality hospital experience. The award winning hospitals not only performed well clinically with regard to orthopedic care measures, but also have a high recommendation rate, a measure that is very important to women in choosing a hospital.
"Women are taking more control of the decision making process when it comes to selecting hospitals prior to selecting doctors," says Delia Passi, CEO & Founder of WomenCertified Inc., home of the Women's Choice Award. "As the primary healthcare decision makers, women account for about 90 percent of all family choices when it comes to matters of health. Making quick decisions goes against her grain and women are seeking more information than ever before when making healthcare or hospital selections. Our mission is to reduce the risk for women and their families so they can make smarter healthcare choices."
As the collective voice of female consumers, the Women's Choice Award provides women with recommendations they can trust, from other women. Eighty percent of women will choose a brand that is highly recommended by others and over 92 percent of women will trust a hospital more if it carries the Women's Choice Award seal, according to MedeliaMonitor, Independent Poll (2013).
The Women's Choice Award program for America's Best Hospitals for Orthopedics is determined first by identifying hospitals that provide comprehensive orthopedic services and a minimum number of arthroscopy, joint replacement and spine surgery services, as well as onsite MRI and physical therapy. Those full service hospitals were then judged on their HCAHPS results for patient recommendations and post-operative recovery, measures that are very important to women in choosing a hospital. Hospitals could be disqualified for high rates of surgical complications and infections. We utilize data made available by Medicare and follow a method that is objective and uniform.
According to Dr. Frank I. Luntz, author and noted pollster, "Americans think about their care as a highly personal issue. It's about personal health and we need to talk about health and care as distinct qualities, values and objectives rather than a massive system." The Women's Choice Award criteria recognizes the dedication and professionalism of doctors, nurses and support staff in providing the best in orthopedic care and serves as a trusted source women can use in making healthcare decisions.
"Clearly, women appreciate learning from the experiences of others, as they take more time to identify the best hospitals and seek validation in their choices," says Passi. "We have found that recommendations are the single most important consideration used by women in selecting a hospital for themselves and their family."
The full list of awarded hospitals is available at http://www.womenschoiceaward.com.
ABOUT THE WOMEN'S CHOICE AWARD®
The Women's Choice Award sets the standard for helping women make smarter choices by collectively identifying the brands, products, and services most recommended and trusted by women - those that deliver a customer experience worthy of their recommendation. Awards are based on surveys of thousands of women, as well as research conducted in partnership with the Wharton School of the University of Pennsylvania on what drives the consumer experience for women versus men. As the leading advocate for female consumers, WomenCertified Inc., home of the Women's Choice Award, created the first national award based on the ratings and preferences of women to provide them with a collective voice. Women can make their preferences heard and be part of the mission toward a million voices strong by visiting the Women's Choice Award's official website and joining the network.