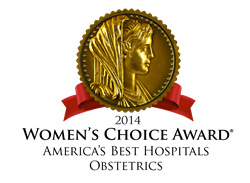 As one of the America's Best Hospitals for Patient Experience in Obstetrics, Putnam Hospital Center meets the toughest standards of excellence set by women," -Delia Passi, CEO and founder of WomenCertified
Carmel, NY (PRWEB) May 13, 2014
Putnam Hospital Center has received the 2014 Women's Choice Award® ranking among America's Best Hospitals for Patient Experience in Obstetrics. The distinction is the only award that identifies the country's best healthcare institutions based on robust criteria that consider female patient satisfaction, clinical excellence, and what women say they want from a hospital, including quality physician communications, responsiveness of nurses and support staff, cleanliness and trusted referrals from other women.
Awarded hospitals must provide comprehensive obstetric services and meet criteria for patient satisfaction and surgical excellence based on female needs and preferences.
The Women's Choice Award is the first national award based on the recommendations and preferences of women. Hospitals qualify for this highly selective annual list of America's Best Hospitals for Patient Experience in Obstetrics based on a proprietary scoring process that incorporates a national, standardized survey of patients' perspectives of hospital care reported by the U.S. Department of Health and Human Services (Hospital Consumer Assessment of Healthcare Providers and Systems), as well as an analysis that weighs criteria identified as the most important to women for patient satisfaction. Additionally, the scoring incorporates in-depth research on customer satisfaction among women, including a joint study on customer satisfaction by gender conducted with the Wharton School of the University of Pennsylvania.
"We provide women seeking peace of mind for their obstetric care with a trusted third party endorsement based on hospital experiences reported by women in their community. As one of the America's Best Hospitals for Patient Experience in Obstetrics, Putnam Hospital Center meets the toughest standards of excellence set by women," states Delia Passi, CEO and founder of WomenCertified, and former publisher of Working Woman and Working Mother magazines. "New moms have many choices when it comes to obstetrics. Now they can make informed decisions based on the recommendations of other moms who have experienced that hospital first hand. Most importantly, when a woman sees the Women's Choice Award at her local hospital, she'll know the hospital values her experience as a critical component of care for her and her loved ones."
About Putnam Hospital Center
Putnam Hospital Center (PHC) is a 164-bed not-for-profit acute care hospital offering the highest quality medical, surgical, psychiatric, pediatric and obstetrical/gynecological care, as well as 24-hour emergency services. The hospital, which is affiliated with Health Quest, offers a full range of inpatient and outpatient services and provides community outreach. PHC serves a population of more than 150,000 men, women and children who live and/or work in Putnam, northern Westchester and southern Dutchess counties in New York. It is Putnam County's largest employer with a staff of over 360 highly qualified physicians, surgeons and allied health professionals and approximately 1000 other employees.
About the Women's Choice Award®
The Women's Choice Award sets the standard for helping women make smarter choices by collectively identifying the brands, products, and services most recommended and trusted by women - those that deliver a customer experience worthy of their recommendation. Awards are based on surveys of thousands of women, as well as research conducted in partnership with the Wharton School of the University of Pennsylvania on what drives the consumer experience for women versus men. As the leading advocate for female consumers, WomenCertified Inc., home of the Women's Choice Award, created the first national award based on the ratings and preferences of women to provide them with a collective voice. Women can make their preferences heard and be part of the mission toward a million voices strong by visiting the Women's Choice Award's official website and joining the network.