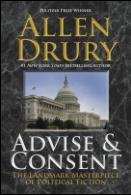 Colorado Springs, CO (PRWEB) January 17, 2014
With years of rights and estate complications finally resolved, the works of Pulitzer Prize-winning master political novelist Allen Drury are back in print through Colorado-based WordFire Press. Drury authored the bestselling political novel of all time, ADVISE AND CONSENT, which has been publicly heralded by political luminaries, news personalities, and pundits on both sides of the aisle.
Upon its initial release, ADVISE AND CONSENT broke a record for a novel at the top spot on the New York Times List, remaining on the list for 102 weeks. The book went on to win the Pulitzer Prize in 1960 and was made into the critically acclaimed 1962 film starring Henry Fonda, Peter Lawford, Burgess Meredith, and Charles Laughton. Over the course of 1962 to 1975, Drury published five sequels to ADVISE AND CONSENT in an epic story about the people and intrigue of turbulent Washington politics. These books are as relevant today as when they were written.
WordFire Press (WFP) is releasing three of Drury's best works on February 21st, 2014, with preorders available now:

ADVISE AND CONSENT – The story of a controversial U.S. Senate to be Secretary of State nominee Robert Leffingwell, who has a distinguished record, but a past flirtation with radical politics he wants to hide
MARK COFFIN U.S.S. – The story of a young, talented Senator's rise, fall, and partial rehabilitation in a vivid insider's portrait of Washington politics
DECISION – The gripping tale of the deterioration in the criminal justice system and the mysterious, powerful body at its core—the Supreme Court of the United States.
WFP will release the rest of the sequence throughout the 2014 election season, with plans to release the complete works of this 20th Century master over the next several years. In addition to numerous political dramas, Drury's works include a two-volume historical epic set in ancient Egypt, a thriller about the politics of space exploration, a multi-volume fictional memoir of his generation, non-fiction books about the Senate, the Nixon White House, and an in-depth investigation of Apartheid South Africa.
About Allen Drury:
A 1939 graduate of Stanford University, Allen Drury wrote for and became editor of two local California newspapers. While visiting Washington, DC, in 1943 he was hired by the United Press (UPI) and covered the Senate during the latter half of World War II. After the war he wrote for other prominent publications before joining the New York Times' Washington Bureau, where he worked through most of the 1950s. After the success of Advise and Consent, he left journalism to write full time. Drury published 20 novels and five works of non-fiction, many of them best sellers.
About Wordfire Press:
WordFire Press was formed by award-winning, New York Times bestselling authors Kevin J. Anderson and Rebecca Moesta, primarily as a vehicle to reissue their own works, but the publishing house has expanded to more than 100 titles, featuring the works of Dune author Frank Herbert, Eisner and Inkpot Award-winning comics writer Mike Baron, New York Times bestseller Brian Herbert, multiple award winner Brad R. Torgersen, and others.