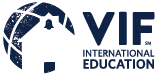 To graduate global-ready students, we must have global-ready teachers - the Global Educator Awards program recognizes those who are at the forefront of this critical work.
Chapel Hill, N.C. (PRWEB) February 19, 2015
VIF International Education, the leading provider of global education programs for K-12 schools, announced Thursday that it is now accepting applications for the 2015 Global Educator Awards. This awards program recognizes teachers who demonstrate outstanding commitment to inspiring students, colleagues and community members toward understanding and appreciating the world's languages, its cultures and the diverse perspectives of all people.
The competition is open to all members of the VIF Learning Center, a social learning platform that integrates professional development, an engaging community of educators and an extensive classroom resource library containing a wealth of globally themed lessons crafted by teachers and experts. Teachers who complete professional development modules and create original lesson plans based on their PD experiences are eligible to participate in the awards program.
"The Global Educator Awards program celebrates outstanding teachers who find innovative ways to integrate global experiences and build knowledge of the world into their instructional practices," said VIF CEO David Young. "These teachers model lifelong learning about the world by completing rigorous professional development that prepares them to teach with a global perspective. To graduate global-ready students, we must have global-ready teachers - the Global Educator Awards program recognizes those who are at the forefront of this critical work."
Curriculum and instructional design experts at VIF will select the best teacher-created lessons and will grant up to 10 Global Educator Awards to individual teachers. The VIF community will then vote for their favorite lesson from the chosen winners and one lucky teacher will be recognized as the Global Educator's Choice Award winner. VIF will also award a Global Team Award to a teaching team that collaborates to develop the best global education lesson implemented in several classrooms. Lesson plans of all award winners will be showcased in the VIF Learning Center.
This year, the teacher who has the strongest project-based inquiry lesson plan will also be deemed the Global Grand Prize winner and will win a professional development trip to Brasilia, Brazil in July 2015. The Annual iEARN Conference and Youth Summit is a unique opportunity for educators, students, administrators, Ministry officials, non-profit and corporate partners to meet and discuss how they are using technology to build global understanding and enhance teaching and learning. In addition to educator and youth led workshops, the event also features cultural excursions, cultural nights and presentations by Ministries of Education, businesses and educational organizations eager to form partnerships with iEARN schools.
"At first, I felt the best part of winning the award was being in the newspaper. It's pretty exciting to be in a U.S. paper!" said Zamora Soto, a 2014 Global Educator Award winner and Splash Language Immersion teacher from Spain. "Having the unexpected visit while I was teaching, and having my 23 students, my co-teacher, my principal and my assistant principal hear about my achievements - that was great. I felt really honored."
Any teacher can become a member of the VIF community to complete professional development and submit a lesson plan for Global Educator Award consideration. The deadline for submissions is March 16 and the winners will be announced later that month.
Take advantage of expert-created tools and resources, and engage with global educators around the world at viflearn.com.
###
About VIF International Education
VIF International Education (http://www.vifprogram.com) builds global education programs that prepare students for success in an interconnected world. For more than 25 years, educators have leveraged VIF's professional development and curriculum, language acquisition and teacher exchange programs to generate engaging learning environments where students can excel in core curriculum as well as develop valuable critical and creative thinking skills. A certified B Corp and 'Best for the World' honoree headquartered in Chapel Hill, N.C., VIF provides a pathway for teachers, schools and districts to become globally designated.
Tags: global-ready, global competence, global awareness, global schools, global education, international education, professional development, curriculum, K-12, e-learning, social learning platforms, professional learning networks, teachers, student achievement, 21st century skills, edtech, education technology, project-based learning, lesson plans, teacher resources, award, recognition