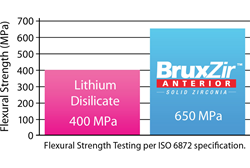 BruxZir Anterior restorations more closely match the vital translucency of natural dentition.
Newport Beach, CA (PRWEB) March 02, 2015
Glidewell Laboratories, industry-leading provider of dental laboratory products and services, announced today the release of BruxZir® Anterior Solid Zirconia. As the latest advancement of BruxZir Solid Zirconia, this highly esthetic restorative material is designed specifically to satisfy the esthetic and functional requirements of the anterior region of the mouth.
Exhibiting a substantially higher light transmission in the warm color wavelengths than any previous version of BruxZir Solid Zirconia, BruxZir Anterior restorations more closely match the vital translucency of natural dentition, making it an ideal solution for anterior and premolar cases. Indications include single-unit crowns as well as bridges with one pontic.
BruxZir Anterior exceeds the ISO strength requirements for cemented all-ceramic restorations and exhibits an average flexural strength of 650 MPa, which far exceeds the measured strengths of competing glass ceramic restorations. Preparation requirements are more conservative than competitors in its class, with only 0.8 mm of reduction needed. BruxZir Anterior restorations are designed and fabricated with proven CAD/CAM technologies, ensuring a precise fit.
Since the brand's release in 2009, BruxZir Solid Zirconia has successfully passed the five-year mark in clinical usage, with more than 5 million units prescribed in that time period. BruxZir Solid Zirconia is one of the most prescribed brands of full-contour zirconia, a status owed to the countless dental and laboratory professionals who have adopted the material into their workplaces.
For more information about BruxZir Anterior Crowns & Bridges, BruxZir Solid Zirconia, or the BruxZir™ Authorized Lab program, visit http://www.bruxzir.com.
Glidewell Laboratories is a privately owned corporation that has more than 45 years of history as a provider of high-quality restorations to dental practitioners nationwide. Its CAD/CAM processing capabilities are recognized as among the most advanced in the industry. To view its large selection of clinical videos, CE courses, and products and services, visit the Glidewell Laboratories website, http://www.glidewelldental.com.