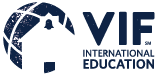 All children matter and language immersion is helping them to reach their potential for academic growth and for success beyond the classroom walls.
Chapel Hill, N.C. (PRWEB) March 05, 2015
VIF International Education, the leading provider of global education programs for K-12 schools, announced Wednesday that an independent evaluation of its Splash Language Immersion program indicates that, on average, Splash students' North Carolina End-of-Grade (EOG) test results outpace those of their peers within the same schools and across the state, year after year.
The evaluation, recently conducted by a UNC research fellow at the Education Policy Initiative at Carolina (EPIC), shows that students participating in VIF's dual language immersion program achieve higher rates of proficiency on EOG tests in reading and math than their non-immersion peers, regardless of race/ethnicity, English proficiency or economic status. Splash students have higher rates of attendance than peers and gain the equivalent of 108 more days of reading instruction than similar students in non-Splash classrooms.
By raising the overall proficiency rate of the school, Splash students also support their schools in reaching both federal and state Annual Measurable Objectives (AMO) targets. In fact, the recently released North Carolina school performance grades for the 2013-14 school year show that the majority of VIF's Splash schools, many of which receive Title 1 funds, have met or exceeded growth targets set by the state.
"We are absolutely thrilled the evaluation shows that the Splash program is working across all types of school populations," said Kevin Smith, VIF's dual language program director. "It is especially encouraging to see that it is a proven solution for schools and students struggling with engagement and achievement. All children matter and language immersion is helping them to reach their potential for academic growth and for success beyond the classroom walls."
The positive impacts of hosting Splash programs extend to entire school communities through school-wide access to VIF's learning center, an online platform that integrates global professional development, curriculum and a community of educators. Teachers outside of Splash gain access to professional learning opportunities and a robust library of classroom resources and, as a result, learn how to introduce global themes and cultural exploration into their core instruction to broaden the minds and capture the imaginations of all students.
VIF currently offers 46 dual language immersion programs across the state and is accepting reservations for new Splash programs for the 2015-16 and 2016-17 school years. VIF provides comprehensive, turnkey support services to districts that want to bring the benefits of dual language programs to their communities. Visit vifprogram.com/splash to learn more about the program and to read the full report.
###
About VIF International Education
VIF International Education (http://www.vifprogram.com) builds global education programs that prepare students for success in an interconnected world. For more than 25 years, educators have leveraged VIF's professional development and curriculum, language acquisition and teacher exchange programs to generate engaging learning environments where students can excel in core curriculum as well as develop valuable critical and creative thinking skills. A certified B Corp and 'Best for the World' honoree headquartered in Chapel Hill, N.C., VIF provides a pathway for teachers, schools and districts to become globally designated.
Tags: language immersion, dual language, world language, bilingual, biliterate, Spanish, Mandarin, global competence, global awareness, cultural awareness, global schools, global education, international education, curriculum, K-12, student achievement, equity, North Carolina schools