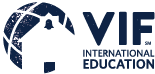 We're honored to be recognized along with so many innovative companies and hope to inspire others to join us in doing well by doing good.
Chapel Hill, NC (PRWEB) April 14, 2015
VIF International Education, the leading provider of global education programs for K-12 schools, announced Tuesday that the company has been recognized by the nonprofit B Lab for creating the most positive overall social and environmental impact with the release of the fourth annual 'B Corp Best for the World' list. This is the third year in a row that VIF has received this honor.
The 'B Corp Best for the World' list honors businesses that earned an overall score in the top 10 percent of more than 1,200 Certified B Corporations from over 120 industries on the B Impact Assessment, a rigorous and comprehensive assessment of a company's impact on its workers, community and the environment. Honorees were recognized among micro, small and mid-sized businesses around the globe.
The B Corp 'Best for the World List' sets the gold standard for high impact companies and demonstrates any type of company can use business as a force for good. VIF helps educators bring the world to students by partnering with schools and districts to provide teacher professional development, classroom resources and language acquisition and cultural exchange programming.
"We're motivated by B Lab's continued recognition of VIF's impact in our local community and beyond," said VIF CEO David Young. "We continue to reimagine and modernize global education to ensure global learning for all - it's the heart of our organization. We're honored to be recognized along with so many innovative companies and hope to inspire others to join us in doing well by doing good."
Additional 2015 Best For the World Honorees include Echale a Tu Casa, a social housing production company in Mexico, Oliberte, a Canadian premium leather goods company that sustainably sources its materials from and manufactures in Africa to create pathways out of poverty and California's Beneficial State Bank an innovative, triple-bottom line, community development financial institution and provider of the B Corp Credit Card. The 120 'Best for the World' companies come from 49 different industries such as manufacturing, telecommunications, pharmaceuticals and finance. Thirty-seven of honorees are based outside the U.S., with companies operating in emerging markets such as Afghanistan, The Republic of Korea and Brazil.
"Today's honorees inspire all companies to compete not only to be best in the world, but best for the world. We hope many will take the first step by using the B Impact Assessment to measure and manage their impact with as much rigor as their profit," said Jay Coen Gilbert, co-founder of B Lab, the nonprofit organization that certifies B Corporations and governs the independent third party standard used to generate the comparable assessment of corporate impact.
B Lab simultaneously released separate lists recognizing the companies 'Best for the Environment' (environmental impact), 'Best for Community' (community impact), and 'Best for Workers' (employee impact) which can be found at bestfortheworld.bcorporation.net. A total of 353 companies were named 2015 Best For the World Honorees, including the two North Carolina-based companies Highland Craftsmen, Inc., a manufacturer of architectural elements committed to decreasing the impacts of construction, and Piedmont Biofuels, a small renewable energy company that produces biodiesel from local food establishment cooking oil. The 2015 Best for the World Honorees represent nearly one-third of all B Corps, displaying a wide range of excellence throughout the community.
Each honored company is a Certified B Corporation. These companies use the power of business to solve social and environmental problems and have met rigorous standards of social and environmental performance, accountability and transparency. Today there are more than 1,200 Certified B Corporations, across 121 industries and 38 countries, unified by one common goal: to redefine success in business. Any company can measure and manage social and environmental performance at bimpactassessment.net.
###
About VIF International Education
VIF International Education builds global education programs that prepare students for success in an interconnected world. For more than 25 years, educators have leveraged VIF's professional development and curriculum, language acquisition and teacher exchange programs to generate engaging learning environments where students can excel in core curriculum as well as develop valuable critical and creative thinking skills. A certified B Corp and 'Best for the World' honoree headquartered in Chapel Hill, N.C., VIF provides a pathway for teachers, schools and districts to become globally designated.
About B Lab
B Lab is a nonprofit organization that serves a global movement of people using business as a force for good. Its vision is that one day all companies compete not only to be the best in the world, but the best for the world and society will enjoy prosperity for all for the long term.
B Lab drives this systemic change by: 1) building a community of Certified B Corporations to make it easier for all of us to tell the difference between "good companies" and good marketing; 2) passing benefit corporation legislation to give business leaders the freedom to create value for society as well as shareholders; 3) helping businesses measure, compare and improve their social and environmental performance with the free B Impact Assessment; 4) driving capital to impact investments through use of its B Analytics and GIIRS Ratings platform.