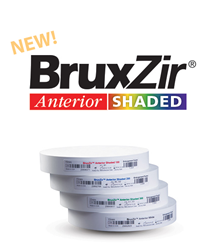 BruxZir Anterior Milling Blanks are uniquely formulated to satisfy the functional and esthetic requirements of anterior and premolar restorations.
Newport Beach, CA (PRWEB) April 15, 2015
Glidewell Laboratories, industry-leading provider of dental laboratory products and services, announced today the release of BruxZir® Anterior Solid Zirconia Milling Blanks. As the latest advancement in the BruxZir Solid Zirconia product line, BruxZir Anterior Milling Blanks are uniquely formulated to satisfy the functional and esthetic requirements of anterior and premolar restorations.
Available in white plus five base shades designed to achieve all 16 VITA® Classical shades through simple staining and glazing techniques, BruxZir Anterior delivers color and translucency similar to natural dentition while still exhibiting an average flexural strength of 625–675 MPa. At launch, shades 150, 250, 350 and white are available, with shades 450 and 550 coming soon.
Exhibiting a substantially higher light transmission in the warm color wavelengths than any previous version of BruxZir Solid Zirconia, restorations milled from BruxZir Anterior blanks more closely match the vital translucency of natural dentition. What's more, due to the material's average flexural strength of 650 MPa, restorations made from BruxZir Anterior Milling Blanks far exceed the measured strengths of competing lithium disilicate restorations.
BruxZir Anterior Milling Blanks are available in four milling blank configurations and are currently compatible with milling units from Glidewell Laboratories, Haas Automation, Inc., Intelitek Inc., Roeders GmbH, imes-icore GmbH, B&D Dental Technologies, vhf camfacture AG, Wieland Dental, and Digital Dental Lab.
BruxZir Anterior Milling Blanks are distributed by Glidewell Direct and Zahn Dental, the dental laboratory division of Henry Schein, Inc. For more information about BruxZir Anterior Milling Blanks, visit http://www.bruxzir.com.
Glidewell Laboratories is a privately owned corporation that has more than 45 years of history as a provider of high-quality restorations to dental practitioners nationwide. Its CAD/CAM processing capabilities are recognized as among the most advanced in the industry. To view its large selection of clinical videos, CE courses, and products and services, visit the Glidewell Laboratories website, http://www.glidewelldental.com.
Henry Schein, Inc. is the world's largest provider of health care products and services to office-based dental, animal health and medical practitioners. The company also serves dental laboratories, government and institutional health care clinics, and other alternate care sites. Henry Schein employs approximately 18,000 Team Schein Members and serves more than one million customers.
The company offers a comprehensive selection of products and services, including value-added solutions for operating efficient practices and delivering high-quality care. Henry Schein operates through a centralized and automated distribution network, with a selection of more than 100,000 branded products and Henry Schein private-brand products in stock, as well as more than 150,000 additional products available as special-order items. The company also offers its customers exclusive, innovative technology solutions, including practice management software and e-commerce solutions, as well as a broad range of financial services.
Headquartered in Melville, New York, Henry Schein has operations or affiliates in 29 countries. The company's sales reached a record $10.4 billion in 2014, and have grown at a compound annual rate of approximately 16 percent since Henry Schein became a public company in 1995. For more information, visit the Henry Schein website at http://www.henryschein.com.
BruxZir is a registered trademark of Glidewell Laboratories.
VITA is a registered trademark of VITA Zahnfabrik.