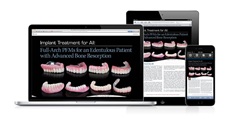 Inclusive prompts its readers to implement the latest advancements in implantology in order to achieve predictable, profitable, reproducible results.
Newport Beach, California (PRWEB) April 07, 2015
Glidewell Laboratories, industry-leading provider of dental laboratory products and services, announced today that the latest issue of Inclusive™ magazine, its multimedia publication focused on implant dentistry, is now available in print and across multiple digital platforms. The digital edition of the new issue, Volume 6, Issue 1, as well as past issues of the dental laboratory's quarterly magazine, can be viewed from all popular desktop, tablet and smartphone platforms by visiting http://www.inclusivemagazine.com.
The featured Implant Q&A spotlights Dr. Mark Adams, vice president of clinical affairs for ClearChoice® Dental Implant Centers. Read the article and watch the exclusive video interview to learn about Dr. Adams' efforts to expand the availability of affordable, high-quality treatment to more patients. Dr. Adams also shares his thoughts on early loading, continuing education, managing patient expectations, digital dentistry, and removable vs. fixed implant solutions.
The latest issue also features a tribute to the late Dr. Per-Ingvar Brånemark, whose discovery of osseointegration and research of root-form titanium dental implants have made implant therapy the essential part of dentistry that it is today. Prominent members in the field of dentistry reflect on Dr. Brånemark's legacy and share their thoughts on the many ways in which his efforts have improved the lives of patients.
In keeping with Dr. Brånemark's mission to improve care for the completely edentulous, several articles illustrate how technological advancements, restorative-driven treatment planning, and the ingenuity of clinicians are making a higher quality of life possible for an ever-increasing patient population. An article by Dr. Paresh Patel outlines a case in which two edentulous arches with severe bone resorption are transitioned into full-arch implant restorations, renewing function for the patient after decades of wearing traditional dentures. Another case presented by Dr. Ara Nazarian features a full-mouth reconstruction that illustrates how implant therapy can afford patients even in the most extreme of dental circumstances an excellent long-term prognosis.
Two articles highlight the BruxZir® Full-Arch Implant Prosthesis, which offers edentulous patients the superior function of a fixed appliance and, because of its construction from monolithic zirconia, a higher degree of prosthetic durability. In one article by Dr. Jack Hahn, a patient whose acrylic implant overdentures had fractured on numerous occasions is upgraded to full-arch restorations fabricated from BruxZir® Solid Zirconia with relative ease. An article by Drs. Timothy Kosinski and B. Patrick Schaefer demonstrates the step-by-step process for providing patients with the BruxZir Full-Arch Implant Prosthesis, following a clinical protocol similar to that of the acrylic hybrid denture while achieving a restoration that is more likely to stand the test of time.
A case report by Dr. Siamak Abai and R&D Project Manager Zach Dalmau features a patient who initially presented for two implant crowns and ultimately receives a full-mouth BruxZir restoration over natural teeth and implants, correcting a multitude of longstanding dental issues.
This issue's Lab Sense article demonstrates how digital design, scanning and 3-D printing technologies allow for the production of CAD/CAM dentures, resulting in a highly accurate prosthetic design that is kept on file so it can be used to fabricate replacement restorations, including implant-retained prostheses.
After reading the articles, viewing the case photos and watching the videos, readers have the opportunity to take free interactive continuing education (CE) tests through the Glidewell Education Center. Participants can earn free CE credits through the Academy of General Dentistry (AGD) Program Approval for Continuing Education (PACE) program for each test they complete and pass.
Inclusive magazine is published by Glidewell Laboratories and President/CEO Jim Glidewell, CDT. Each issue of Inclusive seeks to highlight the many aspects of dental implants from clinical and laboratory perspectives. Featuring case studies, clinical tips and techniques, and practice management tools in both article and video format, Inclusive prompts its readers to implement the latest advancements in implantology in order to achieve predictable, profitable, reproducible results.
To view the new Inclusive magazine digital edition from your desktop computer or favorite mobile device and to sign up for a free subscription to the print version, visit http://www.inclusivemagazine.com. For more information about Inclusive magazine, call 800-521-0576 or e-mail inclusivemagazine(AT)glidewelldental.com.