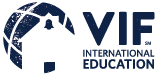 The collaboration between VIF and TESOL is a natural one, as we both are dedicated to providing teachers with resources and training relevant to their work in classrooms with ELLs.
Chapel Hill, NC (PRWEB) April 28, 2015
VIF International Education, the leading provider of global education programs for K-12 schools, announced Tuesday that it will host a virtual seminar in partnership with TESOL International Association (TESOL). The webinar, which will occur on May 13, 2015, will focus on global inquiry in ESL classrooms and VIF curriculum designers Emily Liebtag and Meriwynn Mansori will discuss how to design lessons that address TESOL proficiency standards while engaging students in cross-cultural, globally focused projects.
"Our upcoming virtual seminar represents a new and exciting opportunity for us to partner with TESOL, an internationally known and respected professional organization for educators of English learners," said Mansori, VIF manager of instructional services. "We have the chance to share our expertise about the benefits of using global inquiry to support English language learners with a wide audience of ESL and EFL teachers around the world."
TESOL's mission is to advance the quality of English language teaching through professional development, research, standards and advocacy. Diversity, multilingualism and multiculturalism are at TESOL's core as it envisions to become the trusted global authority for knowledge and expertise in English language teaching.
"The collaboration between VIF and TESOL is a natural one, as we both are dedicated to providing teachers with resources and training relevant to their work in classrooms with ELLs," said Liebtag, VIF manager of curriculum and instructional design.
Global project-based inquiry is an effective strategy to use with English language learners because it offers hands-on, create-to-learn experiences for students while building academic language skills. It also provides an opportunity for teachers to tap into the cultural richness that exists in any classroom where English language learners are present.
Virtual seminars and webinars are one way VIF helps educators bring the world to students by sharing these ideas. By partnering with schools and districts to provide teacher professional development, classroom resources and language acquisition and cultural exchange programming, VIF seeks to provide global education for all.
Educators interested in attending the virtual seminar should register by May 8, 2015 at http://www.tesol.org/events-landing-page/2015/02/23/global-inquiry-in-the-esl-classroom. The virtual seminar will take place May 13, 2015 from 10:30 a.m. - 12:00 p.m. ET.
###
About VIF International Education
VIF International Education builds global education programs that prepare students for success in an interconnected world. For more than 25 years, educators have leveraged VIF's professional development and curriculum, language acquisition and teacher exchange programs to generate engaging learning environments where students can excel in core curriculum as well as develop valuable critical and creative thinking skills. A certified B Corp and 'Best for the World' honoree headquartered in Chapel Hill, N.C., VIF provides a pathway for teachers, schools and districts to become globally designated.
About the presenters
Dr. Mansori develops curriculum resources and professional development focused on global education and language acquisition. She has more than 15 years of experience as a Spanish and ESL teacher, focusing on language, culture and literature. Her professional experience includes teacher coaching, curriculum development and evaluation, cross-cultural training. Additionally, she founded and directed The Carolina School of Languages, a language school offering classes in 10 different languages. Meriwynn holds a B.A. in English and Spanish from Mount Holyoke College and a Ph.D. in Romance Languages and Literatures from The Johns Hopkins University.
Dr. Liebtag creates educational resources and professional development focused on global education. She taught in Durham Public Schools in North Carolina and has studied Elementary Education for the past 10 years. She has trained both pre-service and in-service teachers on a variety of topics, including best practices in working with English language learners and facilitating inquiry in the classroom. She holds a certification in ESOL and is passionate about providing English language learners with access to high quality learning experiences. She received her B.A. in Elementary Education and her M.Ed. in Science Education from UNC-Chapel Hill. She holds an Ed.D in Curriculum, Teaching and Learning from the University of Virginia.