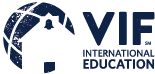 This school has been successful in making global education relevant to its teachers, allowing Holt students to develop cultural literacy under the guidance of motivated and dedicated global educators.
Chapel Hill, NC (PRWEB) June 12, 2015
VIF International Education, a global education partner of K-12 schools and districts, recently announced that Holt Elementary Language Academy in Durham, N.C. has been named the 2015 VIF Global School Award winner. In addition to being honored as a top international school in the region, Holt was awarded funds for global education materials to benefit the school.
Holt Language Academy is a year-round elementary magnet school focused on global studies and foreign languages. Students have opportunities to study Mandarin or Spanish beginning in kindergarten in order to become conversationally fluent by the end of fifth grade. Teachers at Holt actively participate in professional development and classroom resource creation in the VIF learning center to support the incorporation of global content into everyday class instruction.
"Global makes learning and teaching real — it makes it fun," said Holt Principal Star Sampson. "It makes kids want to come to school and teachers want to come to work."
Students at Holt are supported in learning new perspectives by teachers representing many different countries including Colombia, England, Northern Ireland and Jamaica. As kindergarteners, students start their journey in North America, study South America in first grade, Asia in second, Africa in third, Oceania in fourth and Europe in fifth grade. Sampson said this global aspect really centralized the school.
"It gave us some direction," Sampson said. "Going global gave [the school] more rigor and meaning."
Holt hosts cultural nights, an international fair and a global field day, among other globally themed events, and Sampson said she is proud of what the teachers and students are doing at Holt to embrace different cultures.
"It's the spark in children's eyes when they want to learn that keeps me passionate about education," Sampson said. "As soon as you walk in the door, someone is grabbing your hand to tell you something they've learned!"
Teachers and administrators report that teaching core skills through a global lens has dramatically increased students' development of those skills as their engagement is focused on interesting and concrete topics rather than abstract skill development. The school community's energy for global learning is apparent with creative reflections of student learning proudly displayed in every classroom and hallway.
"Holt is a model for how school leaders can commit to global education while empowering teachers to weave global perspectives into their classrooms," said VIF CEO David Young. "This school has been successful in making global education relevant to its teachers, allowing Holt students to develop cultural literacy under the guidance of motivated and dedicated global educators."
Sampson said Holt's administrators and teachers challenge students to expand their world perspective.
"There are people in many different cultures," she said. "We get students to reach out and touch the world — that's what global education is all about."
Holt is one of hundreds of schools involved in VIF's expanding global education programs. In these programs, teachers utilize online professional development and curricular resources to bring global education to their classrooms and drive student achievement through cultural learning.
The VIF Global School Award recognizes schools that demonstrate outstanding commitments to inspire students, teachers and communities toward understanding the world's languages, its cultures and the diverse perspectives of all people. Specifically, the award acknowledges schools that promote curiosity through project-based inquiry and that integrate global themes throughout school environments and communities.
Any teacher can become a member of the VIF learning center (viflearn.com) for free and learn to effectively integrate global themes into core instruction by accessing online professional development, a robust library of ready-to-use lesson plans and a growing community of more than 13,000 educators around the world.
###
About VIF International Education
VIF International Education partners with districts and schools to prepare global-ready teachers and students. For more than 25 years, educators have used VIF's professional development and curriculum, language acquisition and cultural exchange teacher programs to create engaging learning environments where students excel in core curriculum as well as develop valuable critical and creative thinking skills. VIF is a certified B Corp and 'Best for the World' honoree headquartered in Chapel Hill, North Carolina.
Tags: global-ready, global competence, global awareness, global schools, global education, international education, professional development, curriculum, K-12, e-learning, social learning platforms, professional learning networks, teachers, student achievement, 21st century skills, edtech, education technology, project-based learning, lesson plans, teacher resources, award, recognition