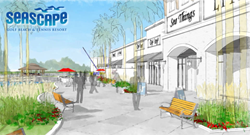 We are very excited about the overall development and the service components The Seascape Towne Centre will bring to our owners, guests, and the overall market
Destin, Florida (PRWEB) June 06, 2015
Seascape Resort is set to break ground on a 55,000 square foot commercial retail center in early 2016. This new lifestyle center will include numerous restaurants and food vendors, a family entertainment sector, and boutique shops and markets. A large scale tiki bar is being planned, along with an ice cream parlor and other food and beverage offerings. Among the many exciting family attractions are a zip line, ropes course, remote control boats, golf chipping section, and live music venues. A specialty grocery store will feature wines, cheese, and deli items, while also providing kitchen basics. Several unique clothing shops for men, women and children will also provide Seascape guests with a new shopping experience.
"The tenant mix at Seascape is very diverse with a wide range of interests and ages. No matter what your dining or shopping preferences, or if someone is simply planning an afternoon with the family, odds are you will probably find what you are looking for at The Seascape Towne Centre," said Jay Nettles, resort operations manager. Seascape resort owners and guests will be able to experience the Towne Centre and all it has to offer without ever leaving the resort. Though the development is located on resort property, it is designed to service a variety of people and will be open to everyone. "We are very excited about the overall development and the service components The Seascape Towne Centre will bring to our owners, guests, and the overall market," says Nettles.
The architectural design of The Seascape Towne Centre conveys an upscale, polished look. The Centre will be a Cambridge Tower system of 5 separate towers located throughout the development, featuring a beautiful stucco finish on the buildings. Well designed hardscapes such as a deck and outdoor living area overlooking lakes and the Seascape golf course blend with thoughtful landscaping to create a truly breathtaking destination for shopping, dining and entertainment. Conveniently located on HWY 98, The Seascape Towne Centre is set to open in early 2017, just prior to spring break.
###
Seascape Resort is a 300 acre golf, beach and tennis resort, is located in Miramar Beach Florida. Located in the prestigious Beaches of South Walton and nestled between Destin and Sandestin, Seascape Resort is a true family friendly resort environment providing condo and vacation rentals, The Whale's Tail beach bar and grill and the largest stretch of private white sand beach in Destin.
Destination Real Estate Group represents the Northwest Florida's finest properties with exceptional skill using the most innovative technologies currently available. Destination Real Estate Group offers ultimate privacy and security, speed, and efficiency. Their years of Destin Real Estate experience has given them a clear understanding of the mindset of condo and resort home buyers and sellers and a thorough understanding of the regional marketplace.