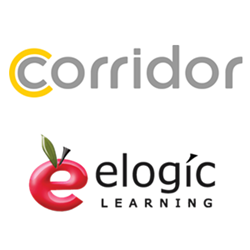 I think we've made a fantastic decision. I feel like eLogic is truly a partner. I see a long future for us and I hope a lot of growth for our business line in eLearning.
Tampa, FL (PRWEB) July 14, 2015
eLogic Learning, an award-winning learning management system and custom eLearning content provider, is honored to announce Corridor has selected the eSSential Learning Management System (LMS) to deliver healthcare training to their clients.
Founded in 1989, Corridor provides a unique combination of revenue cycle services, coding, regulatory compliance, operational expertise and strategic vision to help navigate a transforming healthcare industry. As part of its portfolio of services, Corridor offers clients cutting edge educational resources needed to complete annual mandatory trainings, orientation and ongoing clinical development to their staff. To help its clients accomplish these goals, Corridor provides a 170+ course library designed to meet annual educational requirements, including OSHA, HIPAA, The Joint Commission, CHAP and ACHC.
For Corridor, a key criteria in selecting a new LMS was robust reporting capabilities – so clients could track learners' progress and meet compliance reporting requirements. Another important consideration was flexibility to configure the appearance of the LMS to match both Corridor's and several clients' unique branding needs.
With over 600 solutions available in the market, choosing a new LMS can be a challenge. To aid in the selection process, Corridor worked with an outside industry analyst to narrow down the field of choices. Once the top four providers were determined based on Corridor's critical requirements, Corridor spent several months deeply vetting the solutions with intensive software demos, sand boxes and use case testing.
eLogic's eSSential LMS was selected based on a number of factors including:

Unlimited Organizational Hierarchy
Multi-Site Functionality
Built-In Content Authoring Capabilities
World-Class Customer Support
Partnership Approach
The eSSential LMS's organizational hierarchy was critical to Corridor's business, as many large healthcare clients have offices that spread across different locations consisting of multiple branches under each.
"From an administration standpoint, we required the ability to manage down several levels. Our clients couldn't just be a flat organization for managing their users within the system. No other LMS could do that for us," says Peggy Patton, Vice President of Education Services at Corridor.
eLogic Learning's high standing in the industry for customer service and support also gave Corridor the confidence they needed to make their selection. As Corridor has begun the LMS implementation and migration process, they have experienced the eLogic service difference firsthand.
"The people we've been in contact with have been amazing and responsive. They make it so simple," says Patton. "I think we've made a fantastic decision. I feel like eLogic is truly a partner. I see a long future for us and I hope a lot of growth for our business line in eLearning."
About Corridor
For more than 25 years, Corridor has been a partner of choice for post-acute providers, delivering solid advice and practical solutions. Unique in providing our combination of coding, revenue cycle services, regulatory compliance, and operations + strategy, we have delivered solutions to thousands of clients ranging from large, multi-state providers to small, independent providers. Our experience spans post-acute healthcare, including home care, hospice, private duty, and long-term care. Corridor provides a wealth of best practices to our partners to help them grow in a turbulent environment.
About eLogic Learning
A leader in the eLearning industry, eLogic Learning offers organizations comprehensive learning technology and content solutions that save costs and increase productivity. The eLogic eSSential Learning Management System (LMS) supports over five million monthly users and was named a Top 3 LMS by E-Learning 24/7 and Top 20 by Capterra. The eSSential LMS makes it easy to manage eLearning, instructor-led and virtual training events, keep up with regulatory compliance requirements, analyze training usage and results, sell courses online with robust ecommerce features, and much more.
In addition to its Learning Management System, eLogic develops custom eLearning content and provides an extensive third-party courseware library. With a comprehensive turnkey approach to implementing learning strategies, eLogic offers professional services and proven expertise in content strategy, business process change and the development of corporate training programs.