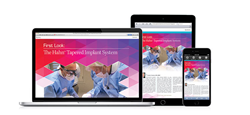 Each issue of Inclusive seeks to highlight the many aspects of dental implants from clinical and laboratory perspectives.
Newport Beach, California (PRWEB) July 30, 2015
Glidewell Laboratories, industry-leading provider of dental laboratory products and services, announced today that the latest issue of Inclusive™ magazine, its multimedia publication focused on implant dentistry, is now available in print and across multiple digital platforms. The digital edition of the new issue, Volume 6, Issue 2, as well as past issues of the dental laboratory's quarterly magazine, can be viewed from all popular desktop, tablet and smartphone platforms by visiting http://www.inclusivemagazine.com.
The featured Implant Q&A spotlights general dentist Dr. Paresh Patel, whose practice in Mooresville, North Carolina, is flourishing due to the wide range of treatment options he offers patients, from single-unit implant restorations, to mini-implant overdentures, to the BruxZir® Full-Arch Implant Prosthesis. Read the article and watch the exclusive video interview to hear his thoughts on the latest advancements in digital dentistry, screw- vs. cement-retained crowns, and the best ways to facilitate patient acceptance of treatment.
The latest issue also includes two articles featuring the new Hahn™ Tapered Implant System, including one by Dr. Jack Hahn himself that demonstrates how a predictable, highly esthetic outcome can be achieved by extracting a tooth, placing an implant, and delivering a temporary crown in a single appointment. Dr. Timothy Kosinski also takes a look at this new implant system, presenting several cases in which excellent positioning and primary stability are achieved following a streamlined surgical protocol.
Other articles highlight techniques for achieving esthetic results for single-tooth replacements in the anterior region of the mouth. An article by Dr. Ara Nazarian includes tips and tricks for creating a natural emergence profile and eliminating black triangles, illustrating how custom abutments, crown design and maintaining a prosthetically driven approach throughout treatment help ensure a natural-looking final restoration. A case presentation by Dr. Patel demonstrates how the Inclusive® Tooth Replacement System offers GPs who are new to placing implants in the anterior a straightforward path to success by including custom prosthetic components for every phase of treatment.
Dr. Siamak Abai's latest article takes a look at an interesting trend in the use of screw- vs. cement-retained crowns, explores the advantages of each restorative option, and explains how, in many cases, patient anatomy ultimately determines the appropriate prosthesis type.
After reading the articles, viewing the case photos and watching the videos, readers have the opportunity to take free interactive continuing education (CE) tests through the Glidewell Education Center. Participants can earn free CE credits through the Academy of General Dentistry (AGD) Program Approval for Continuing Education (PACE) program for each test they complete and pass.
Inclusive magazine is published by Glidewell Laboratories and President/CEO Jim Glidewell, CDT. Each issue of Inclusive seeks to highlight the many aspects of dental implants from clinical and laboratory perspectives. Featuring case studies, clinical tips and techniques, and practice management tools in both article and video format, Inclusive prompts its readers to implement the latest advancements in implantology in order to achieve predictable, profitable, reproducible results.
To view the new Inclusive magazine digital edition from your desktop computer or favorite mobile device and to sign up for a free subscription to the print version, visit http://www.inclusivemagazine.com. For more information about Inclusive magazine, call 800-521-0576 or e-mail inclusivemagazine@glidewelldental.com.