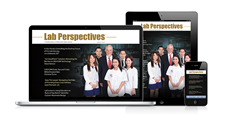 Lab Perspectives is a helpful ally for achieving reliable laboratory growth in the digital age.
Newport Beach, CA (PRWEB) July 14, 2015
Glidewell Laboratories, industry-leading provider of dental laboratory products and services, announced today that the latest issue of Lab Perspectives™ magazine, its multimedia publication focused on the dental laboratory industry, is now available in print and across multiple digital platforms. The digital edition of the new issue, Volume 2, Issue 2, can be viewed from all popular desktop, tablet and smartphone platforms by visiting http://www.labperspectives.com.
This issue features an enlightening article written by Jim Glidewell, CDT, president and CEO of Glidewell Laboratories. With more than 45 years of proven experience and an eye toward innovation, Jim describes what he sees as the future of dental laboratory industry. Read his message to learn the keys to not only surviving, but also thriving, in a business environment that eschews belabored hand skill and values computer-guaranteed results.
The issue also introduces CloudPoint™, a complete, end-to-end system that offers laboratories of all sizes an affordable means of accessing the CAD/CAM workflows that are vital to the production of monolithic dental restorations. Steven Benson, engineering product manager at Glidewell Laboratories, details the technologies involved with this innovative new tool and outlines how cases move from component to component without requiring difficult translation or conversion. Check out the article to see how your lab can begin offering the most popular zirconia restorations without breaking the bank.
Other highlights include an extensive exploration of the digital design process for CAD/CAM-milled implant bars in exocad® DentalCAD design software with digital design specialist Christian Torres. An article by in-house counsel for Glidewell Laboratories Gary Pritchard, J.D., offers helpful information about the laws associated with offering direct case delivery via company drivers, potentially keeping businesses from increasing the risk of being on the wrong end of a lawsuit. Jessica Birrell, CDT, owner of Capture Dental Arts discusses how education empowers dental technicians to be more efficient, perform better, and feel happier in their careers.
Lab Perspectives magazine is published by Glidewell Laboratories and President/CEO Jim Glidewell, CDT. Each issue examines various aspects of the lab industry from both the business and technical perspectives. Featuring exclusive interviews with some of the most trusted names in the industry, step-by-step technical procedures and business management tips, Lab Perspectives is a helpful ally for achieving reliable laboratory growth in the digital age.
To view the new Lab Perspectives magazine digital edition from your desktop computer or favorite mobile device, and to sign up for a free subscription to the print version, visit http://www.labperspectives.com. For more information about Lab Perspectives magazine, call 844-237-2839 or email labperspectives(at)glidewelldental(dot)com.