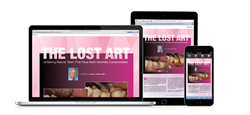 Chairside magazine strives to provoke new ways of thinking and help restorative dentists take their techniques and knowledge to the next level.
Newport Beach, CA (PRWEB) August 27, 2015
Glidewell Laboratories, industry-leading provider of dental laboratory services and products, announced today that the new issue of Chairside® magazine, its restorative-dentistry-focused publication, is now available in print and online. The digital edition of the latest issue, Volume 10, Issue 3, as well as past issues of the dental laboratory's magazine, can be viewed from all popular desktop, tablet and smartphone platforms by visiting http://www.chairsidemagazine.com.
In the featured one-on-one interview, Editor-in-Chief and Clinical Editor Dr. Michael DiTolla talks with Dr. Joshua Austin, a solo practitioner in San Antonio who braved one of today's seldom-travelled paths: starting a practice from scratch. Dr. Austin recently became the Dental Economics editorial director of the "Pearls for Your Practice" column, where he reviews dental products that general dentists might actually use in practice. Read on to find out how a somewhat-recent dental graduate made his way to creating a homegrown practice in Texas.
Also featured in the issue is an informative photo essay in which Dr. DiTolla addresses the all-too-common problem of inadequate reduction for crown and bridge preparations. Follow along as he demonstrates an easy-to-use technique that will help clinicians verify their preparations and upgrade their esthetics results immediately.
Additionally, the issue includes Dr. DiTolla's reviews of new dental products and several articles from leading clinicians, including a question and answer segment from Dr. Gordon J. Christensen that discusses neutralizing postoperative tooth sensitivity, a series of case reports by Dr. Daniel J. Melker that shows clinicians the art of salvaging broken-down teeth without the use of implants, and a look by Dr. Louis Malcmacher into the trend of clinicians using occlusal appliances to treat bruxism without taking sleep studies into consideration. Plus, in the recurring "Chairside Live" column, Dr. DiTolla presents a recent Case of the Week from the lab's weekly Web series that examines one doctor's logical approach to maintaining the vertical dimension for a full-mouth rehabilitation.
Glidewell Laboratories launched "Chairside Live" in May 2012 as a multimedia supplement to Chairside magazine. The weekly Web video series gives dentists an insider's look at some of the unique and interesting cases processed at the lab, while keeping them informed of the latest dental news. Current and past episodes of "Chairside Live" can be viewed at http://www.chairsidelive.com.
Chairside magazine is published by Glidewell Laboratories and company president/CEO Jim Glidewell, CDT. With each issue, Chairside strives to provoke new ways of thinking and help restorative dentists take their techniques and knowledge to the next level. Featuring clinical tips and techniques, case studies, practice management advice, product reviews and one-on-one Q&A interviews with prominent dental experts, Chairside guides practitioners through the challenging and rewarding tasks the dental profession has to offer.
For anywhere, anytime access to the Chairside magazine digital edition and exclusive online content including case videos, clinical case photos, archived articles and CE tests, visit http://www.chairsidemagazine.com. For more information about Chairside magazine, call 888-303-4221 or email chairsidemagazine(at)glidewelldental(dot)com.