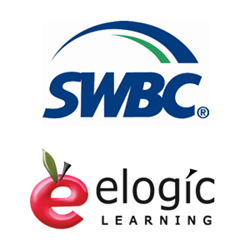 The impact of the mentoring program on our culture and efficiencies has been exceptional. Our partnership with eLogic has been extremely valuable to the growth and success of our training programs.
Tampa, FL (PRWEB) August 12, 2015
eLogic Learning (eLogic) partner and leading financial services provider, SWBC, has recently been recognized as a top learning organization by Elearning! Media Group in the Learning! 100 Awards. The award was announced at the Enterprise Learning! Conference (ELC) in Manassas, Virginia, on June 9, 2015. SWBC earned fifth place in the private sector out of the 100 finalists, which included notable names like Facebook, Google, Intel, McDonald's, and AT&T.
SWBC earned their high rank due to their innovative and unique employee mentorship program. The program pairs employees with mentors to form constructive relationships that foster personal and professional development. SWBC uses eLogic's eSSential Learning Management System (LMS) to manage and track the program.
Mandy Smith, SWBC's Vice President of Training & Employee Development, states, "The impact of the mentoring program on our culture and efficiencies has been exceptional. Our partnership with eLogic has been extremely valuable to the growth and success of our training programs. The eSSential LMS gave us the tools and technology to take our program from vision to reality."
In an employee survey, SWBC found most employees were interested in participating in a mentorship program, but were unsure how to go about finding or becoming a mentor. The result was a program structured to address a number of objectives, learning styles, and diversity in skill level so that employees could make the most of their mentorship experience.
During the mentorship program, all participants met regularly to discuss success stories, experiences, goals, and objectives. These meetings gave participants a venue to have informal learning opportunities, customize their learning paths, and collaborate as a team. The group was also given instructions on how often to meet with their mentors and guidelines for successful meeting agendas.
The program was an overwhelming success among both employees and mentors. In a post-program survey, 100% of participants indicated their mentor/mentee was a good match, and as a result, the vast majority reported feeling more confident in their knowledge, skills, and abilities. In addition, six of the 30 participants received promotions during their program and attribute their success to their mentor.
As a four-year partner, eLogic supported SWBC in the award application process.
"Mandy and the entire training and development team at SWBC are true innovators in the learning community as evidenced by this award. It's exciting to see them recognized as a Top 5 learning organization and standing tall against the high level of competition," says Mark Anderson, CEO, eLogic Learning.
"The award is extremely well-deserved and is a reflection of the intelligent work and dedication of the SWBC team. We look forward to their next great award and supporting SWBC as they continue to execute world-class learning and development programs in the future."
About SWBC
Headquartered in San Antonio, SWBC is a diversified financial services company which provides a wide range of insurance, mortgage, and investment services to financial institutions, businesses, and individuals. With offices across the country, SWBC is committed to providing quality products, outstanding service, and customized solutions in all 50 states. SWBC has been named one of the "100 Best Companies to Work For in Texas" in 2012, 2013, 2014, and 2015. For more information, visit SWBC's website at http://www.swbc.com.
About eLogic Learning
A leader in the eLearning industry, eLogic Learning offers organizations comprehensive learning technology and content solutions that save costs and increase productivity. The eLogic eSSential Learning Management System (LMS) supports over five million monthly users and was named a Top 3 LMS by E-Learning 24/7 and Top 20 by Capterra in 2015. The eSSential LMS makes it easy to manage eLearning, instructor-led and virtual training events, keep up with regulatory compliance requirements, analyze training usage and results, sell courses online with robust ecommerce features, and much more.
In addition to its Learning Management System, eLogic develops custom eLearning content and provides an extensive third-party courseware library. With a comprehensive turnkey approach to implementing learning strategies, eLogic offers professional services and proven expertise in content strategy, business process change and the development of corporate training programs.