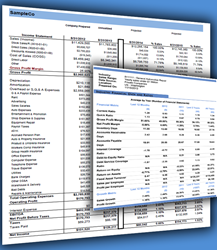 "Brad develops forecasting models based on industry specific data that increases accuracy of predictions. Management experience and entrepreneurial mindset make Brad the go to CPA & consultatnt" -Josh Bois, CEO 2030 Ventures, Inc
Henderson, NV (PRWEB) September 24, 2015
Brad Beckstead, CPA has been serving entrepreneurs and startup businesses for over 25 years by assisting them in developing financial models forecasting, and budgeting. "In all my years of business planning, I have used projections based on what clients guess or think they can accomplish in revenue and expenses. It has really been a 'shot-in-the-dark' way of starting a business, " says Beckstead.
Beckstead is partnered with a leading software and database innovator whose primary focus is on the accumulation of financial data for small businesses specific to their industry. "I'm thrilled with this methodology and basis for developing solid financial forecasting models based on industry-specific standards. Never before the creation of this database has such information been available to startup enterprises!" exclaimed Beckstead. He continued, "I can pull current and specific data for a client and educate them about the industry-specific financial trends. From that education, we then build on the platform based on solid scientific and empirical data. It takes the guess-work out of the business planning process!"
As an example, Beckstead described a recent project with a startup enterprise in the online peer-to-peer lending industry. Says Beckstead, "The client had learned of my prior business planning and modeling successes with clients in the space, and retained me to develop a forecasting model for them. They had limited operations prior to our engagement as they focused on the development of the web and back-office data platforms. They knew they had created something special, but as technical developers, they had no prior experience in developing financial forecasting and budgeting models. I was able to tap into my database and provide my client with accurate and industry-specific historical data, which we used as a basis for forecasting and budgeting. We then simply plugged in their growth projections and "Voila!", the forecasting model was built based on solid industry-specific data, which was then married with management's growth expectations based on their knowledge of contacts, customers, and such. The client was thrilled with the outcome! They were able to take the business plan and forecasting model to a venture capital firm and raise an initial funding round of $25 million! They accomplished this with only limited operational history!"
Beckstead's enthusiasm for entrepreneurs and startup businesses is contagious. Says he, "Innovation and the creation of new enterprises are what keep our country ahead of others on the world stage. The entrepreneurial spirit will continue to keep our country alive and free from the handcuffs of stagnation and downward trends in our economy so long as we give entrepreneurs the encouragement and motivation to take risks. I champion that spirit and love playing my part in the creation of something special!"
###
About Brad Beckstead, CPA – http://bradbeckstead.com
Mr. Beckstead is a licensed CPA, entrepreneur, and business planning expert focused on serving entrepreneurs and startup businesses. His experience encompasses a wide-range of industries, but recent focus has been on online peer-to-peer lending platforms and online service providers.