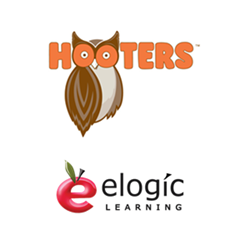 We want our guests to enjoy the same incredible Hooters dining experience no matter which one of our more than 400 worldwide locations they visit.
Tampa, FL (PRWEB) September 24, 2015
Hooters of America, LLC, (Hooters) has selected eLogic Learning (eLogic) as the iconic dining destination's strategic learning and development partner. Hooters announced the partnership at the 2015 Hooters National Convention in Las Vegas, Nevada, June 22-25 with great reception from both employees and franchisees.
Hooters is investing in guest-centric enhancements, from remodeling its restaurants with contemporary design elements to focusing on the recruitment, retention and development of staff members. Through its relationship with eLogic, Hooters is transforming its restaurant employee training and development programs in order to build efficiency and consistency in training across the globe. Hooters Chief Human Resources Officer Terri Hoskins is leading the training redevelopment strategy.
"Hooters is an iconic brand where tradition and service have been ingrained for more than 30 years," says Hoskins. "Training and execution are critical as Hooters continues its international growth and domestic remodel initiatives. We want our guests to enjoy the same incredible Hooters dining experience no matter which one of our more than 400 worldwide locations they visit. We chose eLogic as our learning partner in this process because of their successful track-record of experience, strong representation in the hospitality world and ability to grow with us into the future."
As part of the new training and development initiative, Hooters will evolve employee training from traditional, paper-based methods to interactive, online programs. By partnering with eLogic as its learning management system and online training provider, Hooters will deliver a consistent message to all employees and enhance the outstanding customer experience the restaurant is known for.
Utilizing eLogic's learning management system, the eSSential LMS, Hooters has created an online corporate university that employees will have access to anywhere, including all mobile devices. The online university, called Hooters eCampus, has been designed to integrate seamlessly with the company's branding and will play an integral role in standardizing restaurant employee training across all Hooters locations and franchise stores.
In addition to using the eSSential LMS to deliver training, Hooters is leveraging eLogic's Learning Solutions team to develop custom eLearning courses specifically for Hooters employees. The courses cover a range of topics including employee onboarding, food preparation, menu knowledge and point-of-sale (POS) training.
Tammy Carr, chief learning officer, eLogic Learning, is directing the custom online training course development process. Says Carr, "As a CLO it is exciting to work with the Hooters training professionals on this project. They are extremely knowledgeable training professionals who are dedicated in bringing the best eLearning to their organization to enhance performance."
According to Carr, the training is fully animated and is led by custom-illustrated "avatars" representing the different roles at Hooters, including the world-famous Hooters Girl.
"The training is engaging, fun and allows the Hooters employees to acquire and retain the knowledge they need to be successful at their jobs and represent the positive values of the Hooters brand," says Carr.
In addition to job-related training, a number of courses are available in Hooters eCampus to help employees further develop their careers, including leadership training, communication skills development and much more.
Mark Anderson, CEO, eLogic Learning, states, "It's a great honor to partner with Hooters and and be part of the inaugural roll out of the eCampus. We've had a long, positive history of collaborating with Terri throughout her successful career in the hospitality industry. We're honored Terri has continuously recommended eLogic and excited to collaborate with Hooters as the most recognized restaurant brand in the world."
About Hooters of America
Hooters of America, LLC, is the franchisor and operator of more than 400 Hooters restaurants in 42 states and 26 countries. Known for its world famous Hooters Style chicken wings and the fabulous Hooters Girls, Hooters first opened its doors in 1983 in Clearwater, Florida. Expectations were so modest at the time that the simple fact the doors opened was deemed worthy of a toast. Since then millions have been liberated from the ordinary at Hooters while enjoying great food, fun and one-of-a-kind hospitality that can only be served up by the Hooters Girls. For more information about Hooters visit http://www.Hooters.com.
About eLogic Learning
Since its founding in 2001, eLogic Learning has been leading the industry in learning management system innovation and providing personalized solutions and world-class support to achieve better business results through learning. Ranked as a Top 3 LMS by E-Learning 24/7 in 2015, eLogic's eSSential LMS is a cloud-based learning management system with advanced reporting capabilities and unparalleled user experience. The eSSential LMS has helped hundreds of companies including Outback Steakhouse, Sage and Massage Envy Spa increase productivity, save costs and generate value. As a full-service learning solutions provider, eLogic offers its clients a range of professional services and tools to successfully train and develop their most valuable asset: the people behind their brand.