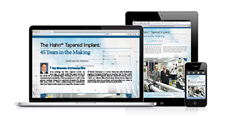 Inclusive prompts its readers to implement the latest advancements in implantology in order to achieve predictable, profitable, reproducible results.
Newport Beach, California (PRWEB) September 29, 2015
Glidewell Laboratories, industry-leading provider of dental laboratory products and services, announced today that the latest issue of Inclusive™ magazine, its multimedia publication focused on implant dentistry, is now available in print and across multiple digital platforms. The digital edition of the new issue, Volume 6, Issue 3, as well as past issues of the dental laboratory's quarterly magazine, can be viewed from all popular desktop, tablet and smartphone platforms by visiting http://www.inclusivemagazine.com.
The featured Implant Q&A spotlights accomplished prosthodontist and educator Dr. Natalie Wong, whose approach to instruction includes an emphasis on one-on-one mentorship, hands-on training and state-of-the-art technology. Read the article and watch the exclusive video interview to hear her advice to GPs who want to get started placing implants, as well as her thoughts on guided vs. freehand surgery and the roles of GPs and specialists in implant dentistry.
The latest issue also features an article that recounts how Dr. Jack Hahn, creator of the original tapered implant, joined forces with Glidewell Laboratories to produce the Hahn™ Tapered Implant, bringing to life the design improvements gleaned over the course of his 45-year career. Three other articles show the new Hahn Tapered Implant in action, including a case presentation by Dr. Timothy Kosinski and another by Dr. Paresh Patel that explain how to achieve a predictable, esthetic restoration in the smile zone by following an immediate extraction and implantation protocol. An article by Dr. Hahn himself illustrates how the implant excels in establishing the prosthetic platform needed to support fixed full-arch restorations such as the BruxZir® Full-Arch Implant Prosthesis.
Dr. Siamak Abai's clinical tip demonstrates how to address the common problem of producing an accurate final impression and bite registration for Kennedy Class I and II cases. By fabricating an occlusal verification jig and implant verification jig, clinicians can provide the lab with the restorative information needed to properly articulate the dental casts and produce well-fitting implant crowns. Dr. Abai also contributes a three-year follow-up study on the Inclusive® Tapered Implant. This retrospective clinical analysis shows that the implant system facilitates bone preservation levels and survival rates comparable to leading implant systems, and can be used with confidence in a full range of clinical indications and protocols.
An article by Dr. Ara Nazarian details how a full-arch prosthesis can be cemented into place over custom implant abutments, affording yet another option to patients looking for more stability and function than a traditional denture can offer.
After reading the articles, viewing the case photos and watching the videos, readers have the opportunity to take free interactive continuing education (CE) tests through the Glidewell Education Center. Participants can earn free CE credits through the Academy of General Dentistry (AGD) Program Approval for Continuing Education (PACE) program for each test they complete and pass.
Inclusive magazine is published by Glidewell Laboratories and President/CEO Jim Glidewell, CDT. Each issue of Inclusive seeks to highlight the many aspects of dental implants from clinical and laboratory perspectives. Featuring case studies, clinical tips and techniques, and practice management tools in both article and video format, Inclusive prompts its readers to implement the latest advancements in implantology in order to achieve predictable, profitable, reproducible results.
To view the new Inclusive magazine digital edition from your desktop computer or favorite mobile device and to sign up for a free subscription to the print version, visit http://www.inclusivemagazine.com.