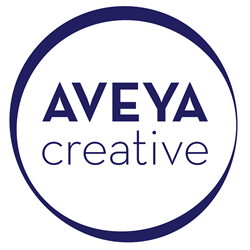 The new logo conveys simplicity, entrepreneurship, friendliness, and confidence. These are all attributes that Aveya Creative embodies. - Lisa Fischer, Designer
Washington, D.C. (PRWEB) January 21, 2015
Aveya Creative, a Washington DC-based agency specializing in startup branding and marketing, is celebrating its third birthday on January 23rd with the gift of a new logo as the first step to the company's larger rebranding initiative. Founder Mariya Bouraima is excited to announce that along with this new logo, in the coming months Aveya Creative will roll out a new website to introduce brand strategy subscription services and self-serve features in addition to custom projects.
The logo, which was created by Aveya Creative designer Lisa Fischer, conveys simplicity, entrepreneurship, friendliness, and confidence. These are all attributes that the Aveya Creative team embodies. The circular stroke is intended to be inviting and express a sense of creativity, as opposed to a flat circle. This stroke will be featured in other aspects of the brand as well, including the Aveya icon that pictures only the Aveya "A" surrounded by this stroke. The circular shape also serves as a framed mirror; as a branding agency, it is essential to successfully reflect client brand identities.
The typeface has been transformed from the previous logo's feminine script to bold, uppercase "Aveya" contrasted by a slim, lowercase "Creative." Mariya Bouraima explains, "As a new brand, it's important for audiences to capture the name instantly, which is why we chose to have 'Aveya' in bold above 'creative' to highlight brand identity with our intriguing Neutra typeface."
The singular color scheme, known by the team and clients as Aveya indigo, communicates the agency's mantra to "keep things simple and sincere."
Aveya Creative, known for its distinctive indigo color, is also introducing a new accent color to its brand – cyan. Although not featured in the logo, cyan will make appearances on the website and branding materials. The two distinctive colors nicely contrast one another creating an aesthetic appeal; indigo, like its cousin purple, is synonymous with creativity while energetic shades of blue are popular on the startup scene. This new combination places Aveya Creative perfectly among its target audience.
The new logo is only the beginning of Aveya Creative's exciting new year. Keep an eye out for the inventive branding agency's new services where customers will be able to subscribe to brand strategy sessions and build projects on their own and be able to rely on custom solutions, as always.
About Aveya Creative:
Aveya Creative is a woman-owned business and is proud to be the only boutique branding and marketing agency in the nation's capital dedicated exclusively to entrepreneurs. Our mission is to transform ideas into top-of-mind brands. Core services at Aveya Creative are brand strategy, logos and taglines, pitch coaching and design; optimized copywriting, ad creative, press releases and social media management are also part of the mix. Aveya Creative is proud to develop branding and marketing for entrepreneurs in diverse industries across the US and beyond, including prominent tech startups at accelerators such as 1776 in Washington DC and Y Combinator in San Francisco.