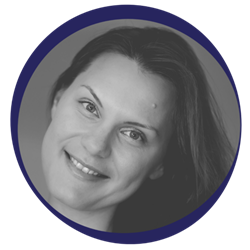 Storytelling pulls customers in and encourages them to become brand loyal.
San Francisco (PRWEB) January 31, 2015
On Tuesday, March 10th, Mariya Bouraima, Founder of Washington DC-based branding agency Aveya Creative, will cross the country to lead "Visual and Verbal Storytelling for Innovative Brands," a 2-hr interactive workshop at General Assembly in San Francisco about crafting the best brand story to truly connect with customers.
When a new [tech] brand launches, whether it be an innovative device or know-it-all app, often its glossy marketing lacks luster because the true story remains vague. Storytelling pulls customers in and encourages them to become brand loyal...anyone who owns anything by Apple can vouch for this! This session will shine light on how and why storytelling works its magic and what you can do to apply top storytelling techniques, both visually and verbally, to make your brand stand out from the crowd.
Key attributes of storytelling:

Why a clear, relatable story is important for your brand
How to construct and deliver your story efficiently
Visual cues to make the story pop
Verbal and visual elements to make your brand story memorable and encourage call to action
Event details:
General Assembly
225 Bush Street, 5th Floor (East Entrance)
San Francisco , CA 94104
https://generalassemb.ly/education/visual-verbal-storytelling-for-innovative-brands/san-francisco/10751
About Aveya Creative:
Aveya Creative is a woman-owned business and is the first boutique branding and marketing agency in the nation's capital dedicated exclusively to entrepreneurs. Its mission is to transform ideas into top-of-mind brands. Core services at Aveya Creative are brand strategy, logos and taglines, pitch coaching and design; optimized copywriting, ad creative, press releases and social media management are also part of the mix. Aveya Creative is proud to develop branding and marketing for entrepreneurs in diverse industries across the US and beyond, including prominent tech startups at accelerators such as 1776 in Washington DC and Y Combinator in San Francisco.
About General Assembly:
General Assembly is an educational institution that transforms thinkers into creators through education in technology, business and design at nine campuses across three continents. We are creating a global community of individuals empowered to pursue work they love, by offering full-time immersive programs, long-form courses, and classes and workshops on the most relevant skills of the 21st century – from web development and user experience design, to business fundamentals, to data science, to project management and digital marketing.