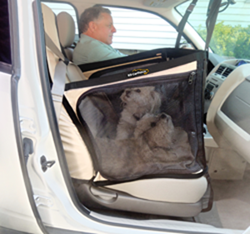 "It's imperative we cut down on driver distraction and keep our canine children safe when they are in the car." - Ira Stahl, Inventor and Chairman
Glenside, PA (PRWEB) October 07, 2015
K9 CarFence today announced the launch of the first product in its new TLC series line: the TLC-2X.
With the unique, made-in-USA, patented K9 CarFence, dogs and puppies easily become good traveling companions whether on trips around town or on long vacation drives. Dogs ride stress free with no harnesses or confining seats. The K9 CarFence netting protects vulnerable pets from sudden car stops and keeps them from climbing into the driver's lap which can cause distractions.
According to the ASPCA, an unrestrained dog — whether curled up on a lap, hanging out the window or resting its paws on the steering wheel — can be deadly. Tens of thousands of car accidents are believed caused every year by unrestrained pets, though no one has solid numbers. What is certain is that dogs must be secure in the car at all times – to prevent driver distraction and keep everyone, including dogs, safe.
"When I invented the K9 CarFence, it was to protect my two poodle Pomeranians, Peanut and Little Bear, from sudden car stops," said Ira Stahl, Inventor and Chairman of K9 CarFence. "It's imperative we cut down on driver distraction and keep our canine children safe when they are in the car. With that in mind, I designed the K9 CarFence to let dogs ride safe, free and easy in cars."
K9 CarFence TLC-2X features include:

Crash tested and proven for dog safety first
Extra strong, extra durable, and most comfortable for dogs and puppies who are small to medium sized
Great for puppy training
For the front or back passenger seat in any car and SUV
Protects car seats from dirty paws and scratches
To celebrate the launch of K9 CarFence's new product line, the TLC-2X is available for 15% off. This exclusive offer expires on October 31, 2015 and is only available at http://www.k9carfence.com.
Additional models will be added to the product line later this year. The TLC-3XL, which protects extra large dogs, is scheduled for November 2015 release. The TLC-1X for small dogs will release in December 2015.
###
About K9 CarFence
The K9 CarFence is a unique in-car safety fence created specifically for puppies and small dogs. The K9 CarFence protects your vulnerable pets from sudden car stops and stops them from climbing into your lap, causing driver distraction and possible catastrophe.
Inventor Ira Stahl founded K9 CarFence in 2012, keeping hundreds of dogs safe in the car across the United States.
For more information about the K9 CarFence, please visit http://www.k9carfence.com.