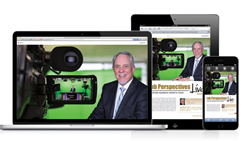 Lab Perspectives is a helpful ally for achieving reliable laboratory growth in the digital age.
(PRWEB) October 27, 2015
Glidewell Laboratories, industry-leading provider of dental laboratory products and services, announced today that the final issue of Lab Perspectives™ magazine, its multimedia publication focused on the dental laboratory industry, is now available in print and across multiple digital platforms. The digital edition of the new issue, Volume 2, Issue 3, can be viewed from all popular desktop, tablet and smartphone platforms by visiting http://www.labperspectives.com.
This issue features an enlightening interview with Dena Lanier, the president and owner of The Lab 2000, Inc., a lab based in Columbus, Georgia. President-elect of the National Association of Dental Labs (NADL), Dena is an industry veteran with a passion for giving back and for educating small labs on how to strengthen their businesses. Read the interview to learn her keys to getting dentists interested in working with your company.
The issue also carries an article on achieving immediate business growth written by Jim Glidewell, CDT. With more than 45 years of experience and an eye toward innovation, Jim describes proven methods that are instantly applicable for labs of all sizes. From building capital, to finding appropriately sized facilities, and to getting the word out about your laboratory, Jim stresses the need to invest in your business above all else.
Other highlights include an extensive exploration of the digital design process for BruxZir® Anterior crowns in 3Shape DentalDesigner™ design software with Cindy Vuong, CDT. An article by in-house counsel for Glidewell Laboratories Gary Pritchard, J.D., offers helpful information for identifying and preventing fraudulent workers' compensation claims. Rudy Ramirez, CDT, and Jerry Lord, CDT, demonstrate how 3-D printing technology is employed in their respective departments at Glidewell Laboratories, proving how useful digital workflows can be in a variety of laboratory settings.
Lab Perspectives magazine is published by Glidewell Laboratories and President/CEO Jim Glidewell. Each issue examines various aspects of the lab industry from both the business and technical perspectives. Featuring exclusive interviews with some of the most trusted names in the industry, step-by-step technical procedures and business management tips, Lab Perspectives is a helpful ally for achieving reliable laboratory growth in the digital age.
To view the new Lab Perspectives magazine digital edition from your desktop computer or favorite mobile device, visit http://www.labperspectives.com. For more information about Lab Perspectives magazine, call 844-237-2839 or email labperspectives@glidewelldental.com.