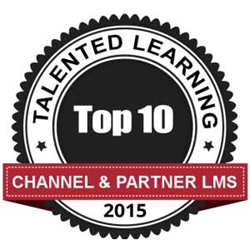 "eLogic's LMS is powerful, deep and modern and they have a great reputation for customer service." - John Leh, CEO and Lead Analyst, Talented Learning
Tampa, FL (PRWEB) October 13, 2015
eLogic Learning is proud to announce its learning management system, the eSSential LMS, has been named in the Top 10 Channel LMS list by Talented Learning.
John Leh, CEO and Lead Analyst of Talented Learning, is a learning management system(LMS) expert with 20 years' experience in the eLearning industry. In less than two years, Leh has analyzed and tested more than 100 LMS solutions.
Through his research, Leh has developed an intimate understanding of the features LMS customers in the business to business and business to consumer (B2B/B2C) markets need. According to Leh, a "channel LMS" has to perform differently from a traditional employee-only facing LMS to handle external, non-employee training.
LMSs are widely used by human resources departments to manage and track all the training activity of the organization's employees. Employee onboarding, required HR compliance training, company policies and skill development training are all delivered, managed and reported through the LMS.
While user experience, system flexibility and modern technology are important to most LMS customers, these components are critical to organizations that need an LMS for external training. Unlike employees who are required to complete training, users of a B2B/B2C LMS choose to train voluntarily. Therefore, the experience of navigating the LMS and completing training must be easy, enjoyable and perceived as valuable by the customer.
Leh named the eSSential LMS as a Top 10 Channel LMS Solution because it has the flexibility and robust feature set to facilitate customer and channel training success. In addition to delivering training, the eSSential LMS provides tools to track training performance in each channel, giving administrators the ability to make informed decisions about the future of their business.
Additional key features of the eSSential LMS highlighted by Leh are multi-site functionality, eCommerce enablement, social learning capabilities, globalization and integrations with external systems. Leh states, "eLogic's LMS is powerful, deep and modern and they have a great reputation for customer service."
Talented Learning will announce the Top 3 channel LMSs in a webinar on November 13.
About eLogic Learning
Since its founding in 2001, eLogic Learning has been leading the industry in learning management system innovation and providing personalized solutions and world-class support to achieve better business results through learning. Ranked as a Top 3 LMS by E-Learning 24/7, eLogic's eSSential LMS is a cloud-based learning management system with advanced reporting capabilities and unparalleled user experience. The eSSential LMS has helped hundreds of companies including Outback Steakhouse, Sage and Massage Envy Spa increase productivity, save costs and generate value. As a full-service learning solutions provider, eLogic offers its clients a range of professional services and tools to successfully train and develop their most valuable asset: the people behind their brand.
About Talented Learning
Talented Learning is a media, research and consulting organization dedicated to the advancement of all aspects of extended enterprise learning solutions. John Leh, CEO and Lead Analyst of Talented Learning has 20 years of experience in the eLearning, continuing education and LMS industry having served as a trusted advisor to more than 100 learning organizations. Providing in-depth research and consulting, Talented Learning helps organizations at every stage of the extended enterprise learning technology life-cycle from business case development, vendor selection, deployment, measurement and growth.