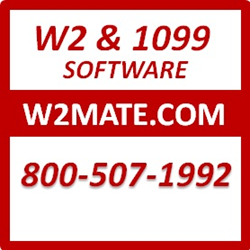 More details and trial downloads are available from W2Mate.com
Chicago , IL (PRWEB) December 31, 2014
With the release of W2 Mate 2014 by Real Business Solutions, major accounting and enterprise resource planning software users can report most types of 1099 tax returns electronically with the IRS and state departments of revenue. Users can also mass e-mail PDF 1099 forms to recipients through the 1099 E-mailer utility. More details and trial downloads are available from http://W2-Mate.com/.
W2 Mate 2014 comes with the ability to paper print, PDF e-mail and electronically file IRS forms 1099 MISC (Miscellaneous Income), 1099-A (Acquisition or Abandonment of Secured Property), 1099-B (Proceeds From Broker and Barter Exchange Transactions), 1099-C (Cancellation of Debt), 1099 INT (Interest Income),1099 DIV (Dividends and Distributions),1099 K (Merchant Card and Third Party Network Payments),1099 R (Distributions From Pensions, Annuities, Retirement, etc),1099 S (Proceeds From Real Estate Transactions),1098 (Mortgage Interest Statement),1098 T (Tuition Statement).
Users can evaluate W2 Mate by visiting http://W2-Mate.com/download-1099-filing-software/. Once ready to order they can buy the W2 1099 software and receive it instantly.
By integrating with best-in-class enterprise accounting, tax and payroll applications, W2 Mate provides W2 1099 filers with the ultimate solution for information return and tax form processing for the 2014 / 2015 season. W2 Mate has a dedicated 1099 import utility for Microsoft Great Plains, Microsoft Dynamics GP /SL, Sage 50, Sage Peachtree and Intuit QuickBooks. W2 Mate can also import from Excel / CSV and Publication 1220 file format, which allows MAS 90, MAS 500, SAP, Oracle and NetSuite users to utilize the capabilities of the W2 1099 system.
W2 Mate Software Highlights:
Supports an unlimited number of 1099 Filers and unlimited number of employees and 1099 recipients;
Prints 2014 1099 recipient copies on regular white paper;
Unlimited 2014 1099 E filing using IRS FIRE System (No per form fees and No data transmission charges) Unlimited 2014 W2 electronic filing submissions using the EFW2 format;
Creates 2014 employee W2's as PDF and recipient (vendor) 1099's as PDF;
Prints government-approved W-2 and W-3 forms on regular white paper (no red-ink form to buy);
Data import from Sage Peachtree, MS Dynamics, Great Plains, Intuit QuickBooks, Sage DacEasy, Excel and CSV;
Efficient and intuitive manual W2 / 1099 data entry;
Supports 1099MISC, 1099K, 1099INT, 1099DIV, 1099R, W2, W3, 1096, 1099S, 1098T, 1098, 1099A, 1099B, 1099C, 1099PATR, 1099OID;
Automatically calculates Social Security and Medicare taxes For paper filers 1096 and W3 are automatically generated;
Supports Windows 8, Windows 7, Windows Vista, Windows XP, Windows Server 2003, Windows 2000 or Windows 98;
Roll-over of payer and recipient information from year to year;
Password protection and data validation;
Generates printing labels, form totals and recipient lists;
Prompt, courteous and reliable US-based support through phone, chat or e-mail;
Network ready with affordable pricing for multiple seats;
Exports W2s and 1099s to excel;
Free downloadable updates;
TIN matching and verification including reports for missing TINs and TIN matching errors;
On-premise software solution to be installed on individual computers / workstations;
Calculates social security tax withheld on W2 forms;
Complete W2 preparation software;
Demo software includes sample company with sample 1099 forms filled out
A free trial of W2 Mate 2014 can be downloaded from http://www.W2-Mate.com/. Customers can purchase W2 Mate and receive it instantly.
###
All product and service names mentioned are the trademarks of their respective companies.