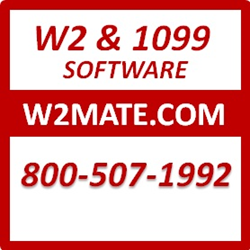 Free W2 Mate 2014 trial available at W2Mate.com
Chicago, IL (PRWEB) January 05, 2015
W2 Mate software (http://www.W2-Mate.com/) is proud to present the 2014 1099 processing module to business filers, accountants, small banks, retirement plan administrators, real estate companies, and fund management providers. W2 Mate supports printing, electronic filing and PDF creation for tax forms 1099-MISC, 1099-INT, 1099-DIV, 1099-K, 1099-R, 1099-S, 1098-T, 1098, 1099-A, 1099-B, 1099-C, 1099-PATR, 1099-OID and W-2.
A number of 1099 forms have been re-programmed for filing in 2015. New boxes have been added, some boxes have been removed, the height for some fields has been either increased or decreased along with typical annual changes and verbiage updates.
Every year, business filers and tax professional are faced with the task of processing year-end information returns. 1099 and W-2 tax forms must be printed and delivered no later than end of January, so that recipients can receive these tax statements in time for their own income tax reporting with the IRS. W2 Mate software makes the process of 2014 / 2015 W2 1099 filing smooth, easy and above all affordable. A free W2 Mate software evaluation can be downloaded from http://www.W2-Mate.com . Customers can purchase the software and receive it instantly.
According to 2014 IRS regulations, penalties may be assessed for failure to file correct information returns (1099, 1098 and other similar tax forms) by the due date, without reasonable cause. This includes Form 1099-MISC. The penalty may also apply if the filer shows incomplete or incorrect information, or files on paper when required to file electronically. Businesses and accounting professionals required to process IRS Forms 1099 this year can rely on W2 Mate for all their filing needs.
W2 Mate is the perfect software program for business filers looking for answers to questions like how and when to send 1099-MISC in 2015, how to electronically file 2014 1099-INTs, how to file form 1099 with the state of Oregon, how to print 1099-MISC in Great Plains (MS Dynamics), how to print 1099DIVs for 2014 using a computer and many other similar questions.
Users of tax, ERP and accounting software systems like Microsoft Great Plains, Microsoft Dynamics GP /SL, Sage MAS 90, Sage MAS 200, SAP, Intuit QuickBooks, Sage Peachtree, Sage 50 and Sage DacEasy can save valuable time and money on 1099-MISC processing by using W2 Mate. W2 Mate 2014, not only ships with powerful 1099 data import wizards, it has no limitations on number of companies, forms, recipients, or filers.
W2 Mate 2014 can also generate 1099-MISC electronic filing submissions ready to upload to the IRS FIRE System. The W2 Mate 1099 electronic reporting module provides the capabilities for E-Filing the following forms with the federal government: W2, 1099-MISC, 1099-INT, 1099-DIV, 1099-K, 1099-R, W-3, 1096, 1099-S, 1098-T, 1098, 1099-A, 1099-B, 1099-C, 1099-PATR and 1099-OID. Several states have implemented W2 and 1099 electronic filing regulations, using the IRS and SSA reporting requirements as a basis. W2 Mate users who file 1099s for recipients who live or work in the states that comply with IRS publication 1220 (1099 electronic filing) can file their state information using the W2 Mate 1099 electronic reporting module. And users, who file W2s for employees who live or work in the states that comply with 2014 SSA EFW2 specification (W2 electronic filing), can also use W2 Mate to file state W-2s electronically.
A free 1099 processing software demo can be downloaded by visiting http://www.W2-Mate.com .